This month UK independent and international schools will receive drafts of a new post-16 qualification that will be available in 2008 as an alternative to A-levels and the IB
University of Cambridge International Examinations (CIE), part of the university's Cambridge Assessment Group, is working with independent and state specialist schools, and universities in drafting syllabuses for 19 subjects, including the core sciences of chemistry physics and biology, which will form the new Cambridge Pre-U diploma.
Cambridge Pre-U chemistry
In October 2005 the CIE began a consultation with schools and universities about its proposed design of a pre-university qualification which would 'prepare students to make a success of their subsequent studies at university'. The CIE put forward a simple qualification structure, similar in style to the IB, of three main subjects plus one subsidiary subject and a further opportunity, ie extended essay component, for students to develop and demonstrate skills of value in higher education. However, unlike the IB, the Cambridge Pre-U diploma will give students the opportunity to focus on their academic strengthens and interests, ie a student keen on science would be entitled to study all three core sciences plus maths, rather than be forced to choose between a science and a modern language.
In response to the consultation, Chas McCaw, chemistry teacher at Winchester College, put forward a proposal for a new style post-16 chemistry syllabus. Impressed by his 'bold and innovative' ideas, the CIE invited McCaw to put together and chair a chemistry development panel, which includes Simon Cotton (Uppingham School), Mike Thompson (Winchester College), Peter Wothers (University of Cambridge) and Lynne Symonds (the Association for Science Education). Following further consultation with the Rugby Group and Eton Group schools, the Royal Society of Chemistry (RSC) and the Russell Group universities, the development team has now prepared a draft chemistry syllabus.
The syllabus and TNTs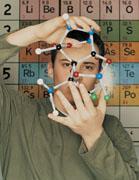 Speaking to Education in Chemistry, McCaw explained that the syllabus has been written with those students intending to continue with chemistry in HE. 'The aim is to encourage a shift away from students regurgitating facts, to them developing skills in solving chemical problems. Chemistry, being the central science and being a mature science, is now a collaborative subject for the emerging fields of molecular genetics, biotechnology, materials, semiconductors and nanotechnology', he says. 'As such, chemists are often needed to solve problems and synthesise molecules required in these areas. The course is designed so that students learn the key concepts required to characterise molecules, make meaningful predictions or calculate useful quantities and they meet interesting and challenging questions, which demand problems-solving and chemical skills'.
The syllabus content is broken down into five categories: organic, inorganic, physical, analysis and three dimensional chemistry. 'The course places an emphasis on the appreciation of three dimensional structure because it is fundamental to the subject at so many levels and brings to life some of the theory met', explains McCaw.
Several totally new topics, or TNTs as McCaw calls them, are included in the syllabus which have not been examined at advance level before. An example is the Van Arkel diagram, an understanding of which will help students predict the bonding in unfamiliar compounds.
The practical component of the syllabus is geared to training students in the skills they will need when starting a chemistry degree. While planning, data handling, drawing conclusions etc would be examined in a written, externally assessed exam, the internal assessments would focus on students' manipulative and observational skills. The development panel is keen to see, but not insisting, schools incorporate microscale chemistry into their lab work.
The draft syllabus assessment of the subsidiary course in chemistry consists of a two-hour written paper and 90-minute practical exam. Students taking the full Cambridge Pre-U qualification in chemistry would take a further two externally assessed papers, a three-hour written paper and a 90-minute practical exam. There is no extension paper. 'Extension-type material will appear at the end of long structured questions in the subsidiary and advance papers', explains McCaw.
Although not formally assessed, students studying for the full Pre-U qualification will be required to produce a 10-minute presentation on a chemical topic, answering questions at the end. Finally, if students select chemistry as the topic for the IB-style extended essay in their Cambridge Pre-U diploma, this would take the form of a literature research-based project.
Coming soon in 2008
The qualification will be piloted in schools in 2007-08 and a programme of INSET events will be run, and textbooks and resources produced to support the teaching of the course. The final qualification is expected to be available for first teaching in September 2008 to coincide with the launch of the revised AS/A-level specifications.
Aimed and marketed at UK independent and international schools, state-maintained schools will not be able to offer the qualification unless it is accredited by the Qualifications and Curriculum Authority (QCA). However, some maintained schools have already shown interest in the exam, according to McCaw, and the CIE is ongoing in its efforts to get QCA's approval. For further information on the Cambridge Pre-U qualification visit the CIE website.