Following the success of its Chemistry Week UK roadshow in 2005, the Royal Society of Chemistry this year ran a national tour under the campaign banner Fuelling the future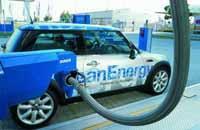 Organised by the RSC and By Design, the tour visited nine locations across Scotland, England and Wales during Chemistry Week. Education in Chemistry caught up with the tour on stop six in Oxford.
Hosted by Oxford Science, visitors took the opportunity to look under the bonnets of some alternative fuelled cars, ranging from a H2-powered racing car, through a biodiesel-fuelled Land Rover and a Lotus sports car converted to run on bioethanol, to the more common hybrid-electric Toyota Prius.
Also on show was a unique test Audi saloon. Developed by BP to test its BP Ultimate fuel, the car had been designed with two separate fuel tanks, each of which separately fed one half (four cylinders) of the car's V8 engine. This allowed BP scientists to compare the combustion characteristics in the engine of its Ultimate fuel with that of normal unleaded petrol.
Prior to the event, the BP car had completed a 5000 km track test, running on BP Ultimate and regular unleaded petrol, in simulated driving conditions. With small cameras positioned above valves/air intakes on each side of the V8 engine visitors to Oxford Science could see that black, sooty deposits had formed on the side fuelled by regular unleaded petrol whereas the side fuelled by BP Ultimate remained clean.
Dr Aldo Guigucci, development technologist at BP's local Pangbourne site, told Education in Chemistry, 'Petrol is a complex mix of many different hydrocarbons. BP developed its clean-burning Ultimate fuel by tuning the ratio in which these molecules are mixed and by including special additives, such as surfactants'.