A course for chemistry teachers and technicans aimed at improving practical work in the classroom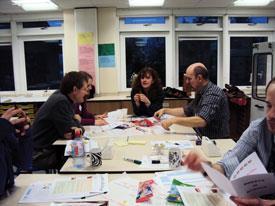 Practical work is an essential part of a young person's science education. It is vital therefore that the practical science being taught in schools and colleges is effective in supporting learning and that any activities done link to scientific concepts being taught. With this in mind, a consortium of scientific professional bodies is supporting Getting practical, a continuing professional development (CPD) course for science teachers, from primary through to post-16 levels, and technicians, who want to improve the effectiveness of practical classes for the benefit of the students.
Launched last year, the programme is funded by the DCFS (department for children, families and schools) and led by the Association for Science Education (ASE) in partnership with the National Network of Science Learning Centres, CLEAPSS and the Centre for Science Education (CSE) at Sheffield Hallam University. An additional 13 scientific professional bodies, including the Royal Society of Chemistry (RSC), are contributing to the programme, which also forms part of SCORE's (science community representing education) project to improve practical work in science in schools.
The course, which consists of six hours of training, has been developed by researchers from the universities of Sheffield Hallam and York, and encourages participants to focus on the pedagogy of practical work. Project manger, Georgina Westbrook from the ASE explained to Education in Chemistry, 'Participants are given the opportunity to reflect upon their own teaching practice with respect to experimental and investigative work, and, if necessary, encouraged to make changes to improve the impact of their teaching. There is the opportunity to "rehearse", "stage", and "evaluate" their practical sessions, as well as use new resources offered by the partner organisations'.
Overall, the programme aims to improve the quality, rather than the quantity, of practical work by, for example, making clear the learning outcomes of any practical activity and ensuring the sustainability of this approach for ongoing improvements.
Currently being run as a pilot, the ASE is keen for teachers and technicians to sign up for one of the free Getting practical courses being run in their area, and would like to hear from those teachers with a passion for practical chemistry to become trainers for the courses for the 2010/11 academic year.
For details of venues and dates of the Getting practical courses in your area, or to register your interest to become a trainer for the courses, go to the Getting practical website or contact Georgina Westbrook. The website also provides links to practical resources from the partner organisations.