John Mann reviews the new edition
Paul M. Dewick
Chichester: Wiley 2009 | Pp550 | £34.95 | ISBN 978 0 47 074167 2
Reviewed by John Mann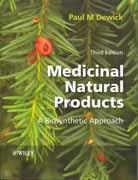 About 20 years ago the pharmaceutical industry concluded that the days of drug discovery using biologically active natural products as models were over. This was in spite of the fact that most of the anticancer drugs at the time were natural products or analogues, and all but two of the classes of antibacterials were modelled on natural products. The pharmaceutical industry embarked upon a programme of discovery using vast libraries of compounds produced by automated (semi-random) synthesis coupled with fast throughput biological screening. This discovery process has been almost wholly unsuccessful and as a result the current pipeline of new drugs is limited. In consequence there has been a recent revival in interest in natural products as leads for drug discovery so this new third edition of Dewick's excellent textbook is most timely.
The book has grown by ca 60 pages since its first edition (published in 1997) and much of this expansion is because of a greater emphasis on the genetic basis of the various biosynthetic pathways, and also a more comprehensive coverage of the enzyme mechanisms involved. Written by a pharmacist and aimed at pharmacy students, the book is highly appropriate for students of medicinal chemistry and new recruits to the pharmaceutical industry.
There is a good coverage of pharmacognosy and the properties of herbs such as echinacea, St John's Wort, ginseng etc. But in contrast to most other books for pharmacy courses there is a rigorous discussion of the medicinal chemistry of all classes of drugs derived from natural products.
I was particularly impressed by the breadth of coverage and the contemporary nature of the subject matter. New drugs such as abiraterone (for prostate cancer), fluvastatin (a new statin), and the recently introduced antibiotics loracarbef and telithromycin all appear. One additional rarity is an excellent chapter on carbohydrates and their medicinal chemistry.
Throughout the book the chemical structures are excellent with complete stereochemistry depicted in every instance. The index and references provided are more comprehensive than in similar texts.
There is no question that this is the best book available on the biosynthesis and bio-organic chemistry of medicinally important natural products.