Registration has opened for Meet the Universities, the event that brings together students considering a degree in chemistry and higher education representatives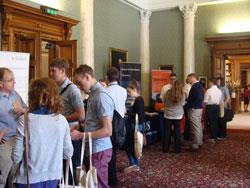 For the first time, the event will be held both in London (Saturday 6 July) and Leeds (Saturday 29 June). Entrance is free, but advance registration is required.
Meet the Universities is run by ChemNet, the Royal Society of Chemistry's network for 14-18 year olds. The event gives students the opportunity to talk directly with university admissions teams, staff members and students to find out about the courses they offer and what life as an undergraduate is really like.
Meet the Universities is held annually and has been very successful in previous years, with many positive comments from students such as 'really useful day; got a lot of information and saved me going all over the country to open days' and 'it was a fantastic experience to talk face-to-face to so many universities in one place.'