The RSC has launched a Higher Education microsite on Learn Chemistry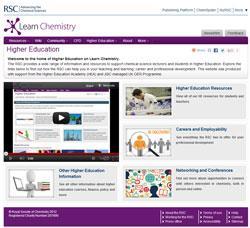 The RSC has launched a Higher Education (HE) microsite on Learn Chemistry to provide a new home for HE resources. It includes information about networking, careers, professional development, courses and finances. There is also a range of resources that have been produced specifically for HE. These were produced as part of the National HE STEM Programme, and focus on context-based and interactive learning.
The Open Education Resource (OER) section recommends externally produced HE resources with a 'Learn Chemistry approved' stamp. The approval process, devised with support from the Higher Education Academy and JISC, ensures that the RSC only produces and endorses high quality content.
Resources are evaluated against a quality checklist developed by a panel of expert academics. Users can quickly determine the value of a resource. The project is in its infancy and the platform will continue to grow as more resources are added. The new microsite also provides links to other RSC information and resources for both lecturers and students.
Visit the new site to try it yourself.
Also of interest
New resources from HE STEM Programme
30 August 2012. The RSC has published a suite of chemistry teaching and learning resources as a result of the National HE STEM Programme
Related Links
Higher Education on Learn Chemistry
For resources, careers, course and CPD information