Chemical symbols are changing
From December 2010 you will notice gradual changes in the labelling and classification of chemicals and information on safety data sheets. By 2015 the new system is expected to be fully in place. The United Nations brought together experts from all over the world to create the new Globally Harmonised System, aiming to have, worldwide, the same criteria for classifying chemicals according to their health, environmental and physical hazards; and hazard communication requirements for labelling and safety data sheets.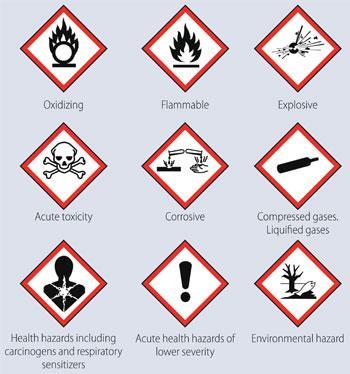 The most obvious changes are in the colour and shape of the symbols but, as well as this, some chemicals now have a different hazard classification. It is not thought that there will be any large impact on schools as the GHS comes into effect.
For more information see the Health and Safety Executive website.