Science teachers can access online resources to support the teaching of the separate sciences at GCSE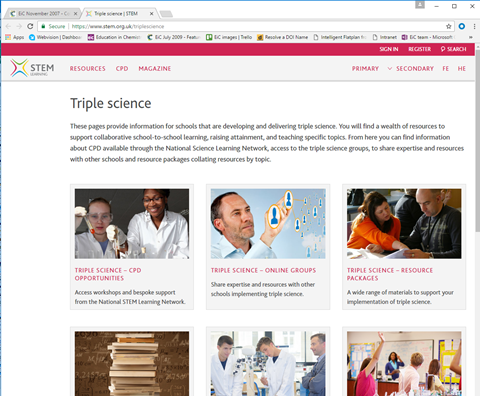 Science teachers can access online resources to support the teaching of GCSE chemistry, physics and biology at the Triple Science Support Programme (TSSP) website.
Delivered by the Learning and Skills Network (LSN), on behalf of the Department for Children, Schools and Families (DCSF), with support from the Science Learning Centres, Institute of Physics, Institute of Biology and the Royal Society of Chemistry, the programme has been developed to help schools' managers and teachers plan, prepare and implement the Triple Science GCSEs.
In its March 2006 budget, the Government made a commitment to encourage schools to offer Triple Science at GCSE to students who could benefit. Since September this year, all students who achieve at least level 6 in KS3 science are entitled to study the separate sciences. Specialist science schools are required to offer Triple Science, at least to all students achieving level 6 at the end of KS3. The Government is working to encourage schools to offer triple science through collaborative partnerships with other schools, FE colleges and universities. The entitlement to Triple Science is part of the Government's strategy to ensure a good supply of highly educated scientists to support the economic future of the country.
To achieve these goals the TSSP is focusing its support on four themes to help schools deliver the separate sciences:
increasing subject-specific expertise and improving teaching and learning;
facilitating curriculum development and design;
strategies for raising attainment; and
collaborative approaches to delivery.
On offer to schools and teachers through the programme are seven new publications linked to these themes. These include three subject-specific books which focus on content that extends Double Award Additional Science to the separate sciences. The books include ideas for investigations, practical work, demonstrations etc. Topics covered in the chemistry booklet include: Energy, changes, fuels and food; Ethanol, ethanoic acid and esters; and Chemical calculations. Another of the new books lists useful resources with suggestions on how each resource could be used to support the teaching of either chemistry, physics, biology or 'how science works'. These links can also be accessed through the TSSP website.
Other support will come via the setting up of 40 local networks, the objective of which will be to share best practice. The networks will play a role in developing innovative approaches to teaching and learning, and producing teacher support materials (eg schemes of work, classroom activities, practical work etc). The networks will also organise visits for teachers and students to local HEIs and employers, run workshops and seminars and design a system for cross-school mentoring support.
Until March 2008 up to three days of free in-house training and consultancy are on offer to 300 selected schools (those already close to offering Triple Science or have a large cohort of pupils achieving level 6 in KS3 science). If you want your school to be considered for this offer e-mail: triplescience@LSNeducation.org.uk or visit the TSSP website.
Related Links
Triple Science Support Programme
Triple Science Support Programme which is designed to make Triple Science GCSEs more widely available to pupils in English maintained schools