Cutting edge science is making its way into classrooms thanks to an innovative programme of continuing professional development courses for teachers, developed and funded by Research Councils UK (RCUK)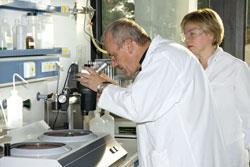 RCUK worked with the national network of Science Learning Centres and leading researchers to develop the courses, designed to equip secondary school teachers with the knowledge and skills to help them inspire and educate the next generation of scientists. The courses, which are delivered by the Science Learning Centres with support from researchers, aim to deliver the latest knowledge, new contexts and practical activities to support teachers in delivering the curriculum in an accessible, enjoyable and stimulating way.
The programme will run until March 2015 and is built on the successful pilot project that ran from 2008-12, which saw 1,470 teachers participating in 101 course days across the UK with more than 230 researchers.
A host of new and exciting courses are now included in the programme, such as drug discovery and development, new materials and nanotechnology, and earthquakes and other natural disasters. Teachers can also apply for funding to help with the costs of attending the courses.
John Womersley, RCUK Champion for Public Engagement with Research, said: 'We are delighted to be announcing this new and exciting programme of professional development support for teachers, building on the excellent work of the pilot project. Given the speed of scientific progress, it is important that teachers have the opportunity to stay up-to-date and remain excited and engaged with their subject. This also allows them to encourage their students to explore current scientific developments and controversies. High quality science teaching is vital if the UK is to secure and sustain the scientifically literate workforce that we need to compete effectively in the global knowledge economy.'
Participants have the opportunity to work alongside scientists involved in pioneering research to develop knowledge and skills in authentic contexts, and engage with inspiring teaching resources and approaches including practical work.
Visit the Science Learning Centres website for further information about the courses and how to apply for funding.
Related Links
Bringing cutting edge science into the classroom
Information from the Science Learning Centres