Hands-on chemistry switches students onto chemistry and gets them thinking about chemistry-related careers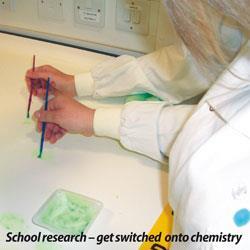 How do you switch your students onto chemistry and get them thinking seriously about chemistry-related careers? One idea is to get them involved in the Researchers in Residence programme.
Open to all secondary schools in the UK, the programme is funded by Research Councils UK and the Wellcome Trust, and gives 11-19-year olds the opportunity to do real research with PhD and post-doctoral researchers from a local university. The scheme is managed by the AEA group and delivered through one of six partner organisations, including the Association for Science Education (ASE) and STEMNET.
Anthony Hardwicke, head of curriculum development at the ASE, told Education in Chemistry, 'The amount of time that teachers need to put into this programme is minimal, but the benefits of hosting research students in your school are enormous. These young and enthusiastic chemists are perfect role models, and are also well placed to offer advice on chemistry-related careers'.
According to Hardwicke, research projects can be used to suit the teachers' needs. They can be used, for example, with gifted and talented students, or students doing coursework or projects linked to national science events, such as the International Year of Chemistry 2011. The researchers, who are CRB checked and given prior training in communications and basic classroom skills, can also give lunch-time talks on their areas of research or on careers, and can provide support on chemical concepts to small groups of students.