A group of teachers from the UK visit three different organisations based in Barcelona to get first-hand experience of industrial processes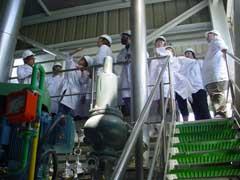 In May, 11 chemistry teachers from schools and colleges around the UK went to Barcelona on a Royal Society of Chemistry (RSC) Industry Study Tour of three different organisations. The three-day tour took in the Institut Químic de Sarrià (IQS), a science and engineering university, the speciality chemicals manufacturer, Croda, and the food and chemicals company LASEM.
Organised and led by RSC education consultant, Chris Baker, the aim of the tour was to give teachers first-hand experience of industrial processes as well as some insight into issues faced by practising chemists, which could enhance their teaching.
At IQS, the teachers heard talks on, for example, nanochemistry, specifically the use of 'nanofoams' for drug delivery. According to chemistry teacher Tanya Khimyak, Magdelen College School, 'the information presented will make a useful case study for an A-level discussion on intermolecular forces, separation techniques and synthesis'.
How major chemical companies are changing to green chemistry to manufacture a host of chemicals, such as surfactants, which are used widely in cleaning and personal products, was the focus of the Croda visit. This was particularly welcomed by the teachers since green chemistry principles are included at both GCSE and A-level. The teachers were introduced to a host of real examples, including the company's use of green solvents and catalysts, renewable resources, and lower temperatures to reduce energy demand and 'carbon cost'.
LASEM makes esters which are used in emollients and emulsions in cosmetics and sun creams. A presentation by technical director Lluis Beltram on the company's use of glyceryl esters was particularly relevant to the IGCSE chemistry teachers on tour.