The Salters' Institute is now accepting online applications for their 2012 Festivals of Chemistry and Chemistry Camps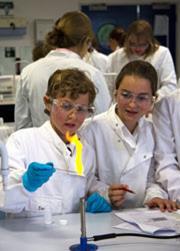 Chemistry Camps take place at selected universities across the UK between June and August. Students experience hands on practical chemistry in university labs, a taste of life in halls of residence, lively chemical demonstrations and a variety of evening social activities. Teachers can nominate up to four students from their school to take part.
The Festivals of Chemistry are one day events which provide the opportunity for students to take part in practical chemistry activities and competitions in a university department. Prizes are awarded to the winning teams and all students receive participation certificates. The closing date for entries is 31 January 2012.
Awards
Last month the Salters' Institute held their annual awards ceremony to celebrate high levels of excellence within the science education sector.
The awards were presented by David Willetts, the minister for universities and science. He said: 'It's been an honour to present these awards and join the Salters' Institute in recognising the science talent we have in our schools and universities. I have been incredibly impressed by the standard of winners and hope many will go on to be leaders in the science field.'
Related Links
Salters' Festivals of Chemistry
Enter your school for the 2012 Festivals of Chemistry
Find out more information about the camps and apply online