More than 100 children from across South London attended the launch of Scientists in Sport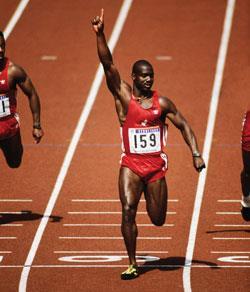 More than 100 children from a range of schools across South London attended the launch of Scientists in Sport at King's College London on 22 March. The schools' outreach programme, funded by London 2012 partner GlaxoSmithKline (GSK), is designed to inspire young people into a range of scientific careers.
Scientists in Sport showcases how science will be used during the London 2012 Olympic and Paralympic Games - from anti-doping drug tests to understanding how eye tracker scanning could improve how football teams perform in penalty shootouts.
Schools have plenty of time to become involved. The programme comprises a series of free events running between now and the Olympic and Paralympic Games in 2012. These events offer local school children the opportunity to experience a day at a university by taking part in sports-based lectures and interactive workshops. These aim to encourage 11-14 year old students to take their science studies further and consider a career in science. These events will be held at universities across the UK and will be delivered by faculty staff, student ambassadors and GSK scientists.
A new website Scientists in Sport supports this programme. It gives teachers and students across the UK the instructions and resources to replicate the experiments in their own classrooms, helping to inspire the next generation of expert scientists.
Malcolm Skingle, director of academic liaison for GSK, said 'Scientists in Sport demonstrates how business and academia can work together to harness that initial enthusiasm and encourage more young people to study science at university. This should help deliver the science graduates who can drive forward the UK's science base and provide potential recruits for academia and researched based organisations like GSK.'
The event was launched on the same day that results of a study, which asked 1000 11-16 year olds across the UK about their career and education aspirations, were released. When asked specifically about science - 80 per cent said that they enjoyed science lessons but only 2 per cent aspired to a career in science. This is despite the UK being Europe's top location for investment in pharmaceutical and biotechnology research and development.