Students from Ridgeway School in Plymouth are the overall winners of the Royal Society of Chemistry's (RSC) 2009 Bill Bryson science communication competition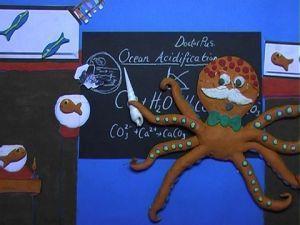 A stop-motion animation, The other CO2 problem, created by students of Ridgeway School in Plymouth has won the overall prize in this year's Royal Society of Chemistry (RSC) Bill Bryson science communication competition. Selected in July from over 400 entries, the short film aims to raise public awareness of ocean acidification caused by increasing amounts of CO2 dissolved in the seas and the impact this will have on the marine environment. The students gathered information for their story by interviewing scientists at the National Marine Aquarium in Plymouth. They then wrote the film script, designed the plasticine characters and produced the music for the film.
Now in its fourth year, the aim of the competition is to promote science communication in schools and colleges and students' enthusiasm for science. The entries were judged by a panel comprising author Bill Bryson, RSC president David Garner and acting editor of Education in Chemistry James Berressem. The panel awarded the primary school prize to a team of Year 3-4 students from Whitehill Junior School in Hitchin, Hertfordshire, for their PowerPoint Team radish, a review of the group's experiments to see if the colour of light affects the growth of radishes. Matthew Kearney, Chris Forman and Adam Deaton from Branston Junior School in Lincoln were selected for a runners-up prize in the primary school category for their film on the science of electricity.
The secondary school and college prize was won by a team of Year 9-13 students from Taunton School in Somerset, for their high-quality science magazine The pulse, which featured article on drugs in sport, slimming pills and orgasms. Hayley Wood, a Year 9 student at Tudor Hall School in Banbury, Oxford, receives a runners-up prize for her booklet The world in colour.
The schools of each of the category winners receives £500 while the students in each winning team share £100. Runner-up schools each win £100 and the students receive £10 book tokens. The winners will receive their prizes at a presentation event in London in the autumn term.
Related links
Find out more