The RSC is offering a series of short courses aimed at supporting newly and recently qualified chemistry teachers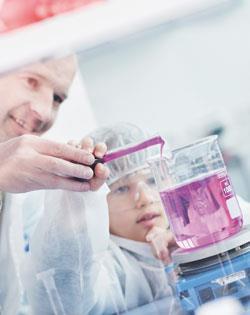 Developing Expertise in Practical Chemistry workshops are one day courses for teachers of 11-18 year olds. This autumn, at venues across the UK, attendees will have the opportunity to improve their confidence and expertise in using a variety of practical activities to enhance their chemistry teaching.
Nicole Morgan, RSC Schools and Colleges Manager, said 'Participants will be able to rehearse relevant and interesting experiments and demonstrations to help inspire and engage their students. They will also be able to design, plan and implement interesting and effective practical work.'
The courses are coordinated in partnership with the Science Learning Centres and are funded as part of the Reach and Teach education programme, supported by the Wolfson Foundation.
Related Link
Developing Expertise in Practical Chemistry - for Newly and Recently Qualified Chemistry Teachers
One day course specifically aimed for new chemistry teachers of 11-18 year olds.