Since its launch in September 2006 some 1200 UK students have joined ChemNet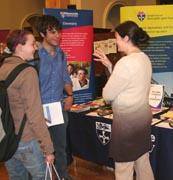 Since its launch in September 2006 some 1200 UK students have joined ChemNet, the Royal Society of Chemistry's (RSC) initiative for post-16 students studying chemistry. ChemNet aims to enthuse young people about studying chemistry at university and then to encourage them to pursue a career based upon studies in the chemical sciences.
As ChemNet members, students receive regular mailings, which include the ChemNet newsletter, Chemistry World and InfoChem [selected articles now on EiC site]. Student members are also sent free RSC materials and careers advice, and they can access a discussion board on the RSC website where they can ask questions about their studies or chemistry and make contact with other ChemNet members.
Over the past year, ChemNet members have also had the opportunity to visit industrial sites, such as the Thorp Reprocessing centre at Sellafield, GlaxoSmithKline in Ulverston and AstraZeneca in Charnwood, and work in university chemistry laboratories doing hands-on activities, such as synthesising ferrofluids to learn about nanotechnology.
At the Meet the universities event held at the University of Birmingham in July ChemNet members, their parents and teachers learnt more about chemistry-based courses offered by UK universities, the UCAS application process and experienced how chemistry is taught in HE. Similar events will be run from this September onwards, and Chemistry Week (3-11 November) will be a particular focus for ChemNet events.
To join ChemNet costs £10 until August 2008 or £15 until August 2009. For further information contact Dr Robert Bowles at the RSC or visit the website.