Record numbers of students took part in Royal Society of Chemistry's Spectroscopy in a Suitcase events in 2010
Record numbers of students took part in Royal Society of Chemistry's (RSC) Spectroscopy in a Suitcase (SIAS) events in 2010 and, with support from industry, the project has also expanded into new regions.
SIAS allows school students to gain first-hand, practical experience of spectroscopy by bringing cutting-edge spectroscopic equipment into schools. Last year, SIAS reached over 7000 students, representing well over 100 schools, and the target for 2011 is even higher.
The project also grew in 2010 with the addition of two new sets of equipment, allowing the RSC to expand its coverage. SIAS provision has now been established in the North West of England, as part of the National HE STEM Programme, and also in Northern Ireland, through funding obtained from the Alliance of Sector Skills Councils.
This expansion has been possible due to the support of the instrument manufacturer, Bruker, who agreed to loan the scheme two of their highly portable Alpha FT-IR spectrometers. This represents an important step in developing support for the scheme and in securing the expertise and experience of industry specialists. Speaking about the scheme, Colin Barrow, Vibrational Spectroscopy Sales Manager for Bruker, said 'Bruker recognises the importance of playing an active role in empowering chemistry education and the need to prepare future generations for pioneering advances'.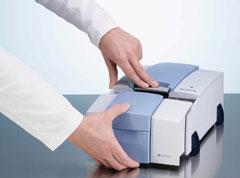 In the coming year, the RSC plans to bring SIAS to Welsh students with the introduction of two further sets of equipment to be hosted in universities in Wales. The associated SpectraSchool website will also undergo development, which, alongside SIAS, will provide a range of resources for teachers and students to use in exploring with this vital and exciting topic. For more information, visit the Spectroscopy in Suitcase pages on the RSC website.
Also of interest
Spectroscopy in a Suitcase - Giving students hands-on experience of cutting-edge spectroscopic techniques