Cambridge Assessment has submitted a summary of its report into the effects of implementing controlled assessment in GCSEs to Ofqual
Researchers found that the introduction of controlled assessments has been partly successful in increasing teachers' confidence that submitted work is the student's own. However, the negative effects - such as lost teaching time, detrimental effects on learning experiences, challenges for timetabling, issues with computer access, challenges dealing with student absences, reduced motivation for some students, and additional pressure and stress for students - outweigh the positive. Nonetheless, many teachers still believe that there should be some form of internal assessment in their subject as part of the GCSE.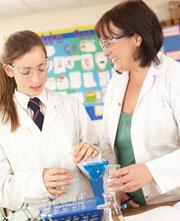 Mark Dawe, Chief Executive of OCR, one of Cambridge Assessment's exam boards, said: 'Practical work is important in some subjects but not all and there is something we can learn from that. There are ways of encouraging that practical learning to happen without always testing the practical skills on the day under heavily controlled conditions. Cambridge Assessment's in depth study supports the idea that controlled assessment is flawed but that teachers do like some form of internal assessment. We need to pay careful attention to these important findings and consider how they can help inform future arrangements in the best interests of students' education.'
The study, involving 346 teachers and 163 examinations officers, was used to investigate the effects of the change from traditional coursework to controlled assessment in GCSEs. It also explored issues such as how the controls are understood and implemented by teachers, how learning experiences have been affected, practical challenges in the implementation of controlled assessments and views on plagiarism.
The executive summary is available on request from Cambridge Assessment. The final report will be available on request at the end of July.
Related Links
Owner of the OCR, CIE and Cambridge ESOL exam boards.