Chemists use spectroscopic technique to shed light on the toxic metals in sunscreens and cosmetic products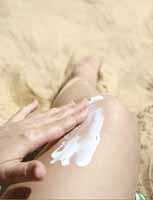 Titanium dioxide is a bright white pigment that is commonly used as an ultraviolet filter in sunscreens because it scatters and reflects ultraviolet light away from the skin surface. Although titanium's use in sunscreens is regulated, some formulations also include other heavy metals, which are not regulated.
To address this, a team led by George Zachariadis of the Laboratory of Analytical Chemistry, at Aristotle University, in Thessaloniki, Greece, has turned to inductively coupled plasma atomic emission spectroscopy (ICP-AES).1 This technique, which compares well with more conventional atomic absorption spectroscopy for multi-element analysis, could lead to a standard test for regulatory control.
Sunscreens are marketed as being beneficial in protecting skin from the sun's harmful effects - ie the risk of premature ageing and some forms of skin cancer. However, little thought is given to the presence of toxic metals in these products and no standardised analysis is available for regulators or quality controllers, though there are regulations that limit the maximum amounts of each type of uv filter - inorganic or organic - that can be added to products. The EU and US both have lists of permitted compounds and allowable concentrations. Titanium dioxide is listed as the only inorganic uv filter authorised for use in sunscreens on sale in the EU.
According to the researchers, sunscreens and cosmetics containing uv filters need to be analysed primarily to determine their sun protection factor (SPF), which is related to the specific ultraviolet filters and their concentrations, and for regulatory compliance. The concentration levels of metals and oxides should be lower than the established limits because there are several known adverse dermatological side effects, mainly from organic uv filters.
The team tested for aluminium, zinc, magnesium, iron, manganese, copper, chromium, lead, and bismuth in a range of products with reference data from atomic absorption spectrometry. To prepare their samples, the researchers tried two alternative pre-treatment procedures.
The first was total acid digestion in a closed pressurised vessel before introducing the sample into the spectrometer. The second involved introducing the sample direct into the plasma as an emulsified slurry.
The researchers found that the latter approach did not work because many of the products being tested are creamy, highly viscous, or insoluble. However, by using the first technique they obtained calculated recoveries of 95 per cent for titanium and almost 100 per cent for zinc, while iron recovery was above 100 per cent because the samples were spiked with known quantities of the different metal ions initially to produce adequate signals. 'Most of the commercial preparations studied showed generally good agreement to the ingredients listed on the product label', the researchers say. However, the quantitative composition of the products could not be assessed because the product labels do not provide a detailed breakdown of all the ingredients and their concentrations.
There were several elements present in formulations that are not listed in the products' ingredients and are toxic under certain conditions. According to Zachariadis and his team, this suggests that there is a need for a standardised and official testing method for multi-element quality control of sunscreens and cosmetic products.
References
G. Zachariadis and E. Sahanidou, J. Pharm. Biomed. Anal., 2009, 50, 342.