Waseda University, Tokyo, Japan, hosted the finals of the 42nd International Chemistry Olympiad competition.
The UK team travelled to Japan a few days earlier than needed to try and beat the jetlag and it certainly seems to have helped, resulting in the best performance by a UK team for the last 10 years. In total the team were awarded 1 gold medal, 2 silver medals and 1 bronze medal.
The UK gold medal winner, Ruth Franklin from the Manchester High School for Girls, came joint seventh out of 274 competitors and was the highest placed girl in the competition. Joshua Stedman of Abingdon School and David Edey of Alchester Grammar were awarded silver medals, whilst David Wade of Northgate High School got bronze. The sixthformers were selected earlier this year following two rounds of tests, run by the Royal Society of Chemistry (RSC) with support from the chemical company INEOS to engage all UK schools and colleges in the competition.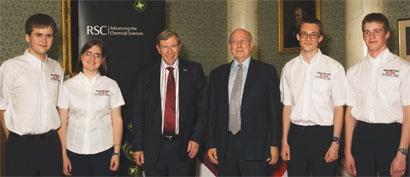 In Japan the finalists were tested on their knowledge of chemistry and their practical skills, with two five-hour exams.
In 2011 the 43rd International Chemistry Olympiad competition will be held in Ankara, Turkey. Upper-sixthform students can find out more about the competition and register online for the qualifying rounds for the 2011 team selection at the RSC website.