A new flagship resource from the RSC
One of the flagship resources the RSC is launching with Learn Chemistry is the Visual Elements Periodic Table. This is an attractive, easy to use resource featuring Murray Robertson's stunning artwork. It incorporates a wealth of elemental data - from atomic radii to supply risk.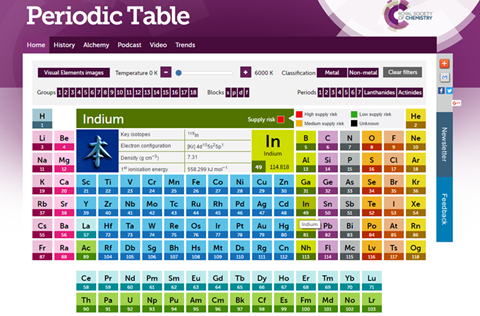 In its new form, Visual Elements contains almost everything you would want to know about an element, laid out in a clear and contemporary way. Visual Elements can be filtered not only by group, period, and block, but also by year of discovery. Phase changes can easily be seen by using the temperature slider.
Dynamic resource
This dynamic resource will continue to grow and ultimately include historic information, data trending tools, and engaging games. Data will change to reflect the discovery of new elements. Through collaboration with the British Geological Survey, the supply risk panel will continue to reflect how the scarcity of raw materials and global political climate affects the supply of everyday materials.
Related Links
The Visual Elements Periodic Table is a new and innovative online platform that brings a rich source of data on every element.