Independent report finds that teachers who take part in RSC's Chemistry for non-specialists (CFNS) become more confident in their teaching of chemistry and practical chemistry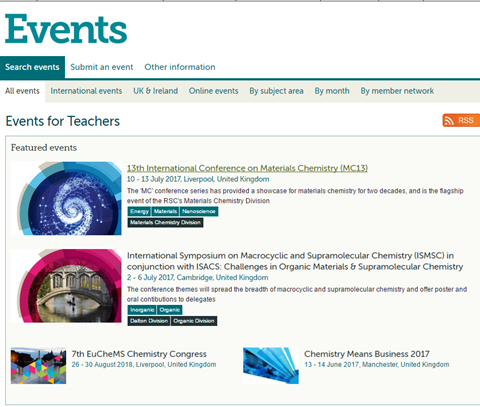 Teachers who take part in the Royal Society of Chemistry-run (RSC) CPD programme, Chemistry for non-specialists (CFNS), become more confident in their teaching of chemistry and practical chemistry at Key Stages 3 and 4, according to the interim findings of an independent evaluation of the programme conducted by the National Foundation for Educational Research (NFER).
Undertaken between February and May 2008, the evaluation is based on data collected from a questionnaire survey of course participants and case studies with participating teachers. The interim findings are based on the results of the questionnaire survey.
Launched at the start of 2007, Chemistry for non-specialists is a three-year programme designed to raise the confidence and expertise of non-specialist teachers teaching chemistry in UK schools.1 Funded by the Department of Innovation, Universities and Skills (DIUS), GlaxoSmithKline (GSK) and the RSC to the tune of £1.3m, the project was developed in response to a 2006 Department for Education and Skills (DfES) report which found that many secondary school science teachers are teaching chemistry outside of their specialist area.
As of March 2008, 489 non-specialist teachers had taken part in CFNS CPD courses. The four-day courses, aimed at either KS3 and or KS4 teachers, comprise a two-day residential and two one-day follow-up events held across three terms. Delivered by secondary school chemistry teachers trained by the RSC, each course programme covers key chemistry concepts and provides participants with hands-on experience of doing demonstrations and running student practical work.
Feedback from the questionnaire survey shows that non-specialist teachers value most the practical training offered. Participants also gain valuable new ideas, knowledge and theory in both chemistry and their teaching practice, to take back to the classroom. In turn, over half the teachers who took part commented that their training had led to a positive effect on their students' enjoyment of chemistry and on their interest in chemistry.
From September around 20 CFNS courses will be run in England and Wales during the autumn term. The fee for each course is £120. For further information and to book a place on a forthcoming course contact Kirstie Hampson, national project manager, Chemistry for non-specialists at the RSC.
Contact and Further Information
Amanda Middleton
HE STEM/Regional Co ordinator Manager
Royal Society of Chemistry, Thomas Graham House, Science Park, Milton Road, Cambridge CB4 0WF
Tel: +44 (0)1223 432337
Fax: +44 (0)1223 432359
Email: Amanda Middleton
References
Educ. Chem., 2007, 44 (5), 132