Will Haywood, science teacher at Bulwell Academy, Nottingham, looks at some websites that may be of interest to chemistry teachers.
Café Sci
Café Sci is a project encouraging schools to set up Café Scientifique style events - informal meetings between scientists and students in a relaxed café atmosphere to explore contemporary issues around science and technology.
It is free to join and provides access to volunteers from local universities and industry. They speak for around 10-15 minutes about their subject and then discuss this and other issues with students.
This could be a great opportunity to engage students in science, to challenge gifted and talented students or as valuable enrichment for A-level students. There are also resources to help students to organise and manage the events themselves. It is then possible for students involved to gain accreditation through CREST or the Duke of Edinburgh's Award schemes.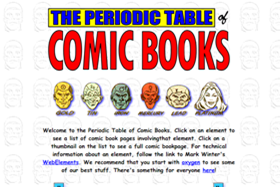 The Periodic Table of Comic Books
The Periodic Table of Comic Books is an interactive online periodic table with a difference. Click on a chemical symbol and rather than being given lists of facts and data, you are presented with the name, number, date and page of comic books which have made reference to that element.
If you click on an issue you will see an image of the relevant page from the reference. These excerpts from Marvel Comics, DC Comics and others could be great for launching a topic or activity, a possible starter or activate activity, enhancing display work, or just a bit of fun!
Rod Beavon Chemistry Pages
Dr Beavon is a chemistry teacher and a principal examiner for the current Edexcel chemistry A-level. He has written A-level revision guides and co-authored text books.
The chemistry pages of his site are divided into sections for physical, inorganic and organic chemistry.They provide a comprehensive study guide to support learning chemistry at A-level and the foundations of study at a higher level.
The site includes guides to solubility, plotting titrations and drawing reaction mechanisms. Also included are flowcharts and catalogues of inorganic, aliphatic and aromatic organic reactions and procedures for organic preparations, together with reasons why each step is required. There is also a series of problems with detailed solutions.
There is good advice on how to structure and write lab reports, exam tips including how to lay out calculations and graphs and a guide on how to assess experimental error. He also supplies a section of easily accessible excerpts from original papers by the likes of Kekulé and Le Chatilier which may be of use and interest.
If that is not your cup of tea then there is a selection of miscellany including the history and science behind 'Will o'the Wisp'!
If you know of any websites that should be reviewed in Education in Chemistry, then email the title and URL to Will Haywood at Bullwell Academy.
Related Links
Cafe Sci
Café Sci is a ground-breaking new way to bring science to secondary school students in an informal, discussion-based format
Periodic Tales
Purchase this book from Amazon.co.uk
The Periodic Table of Comic Books
The Periodic Table of Comic Books
Rod Beavon
Rod Beavon chemistry pages
Contact and Further Information
Will Haywood
Will is a science teacher at Bulwell Academy, Nottingham
Email: Will Haywood