From misconceptions to maths, the third edition of this book is an essential resource for chemistry teaching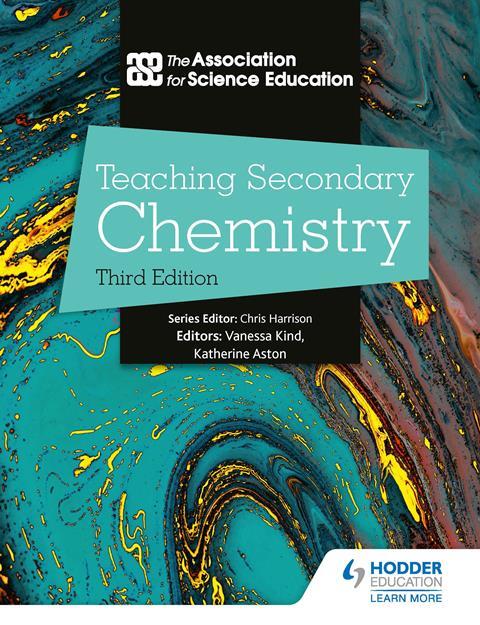 3rd edition
Chris Harrison (ed)
London, UK: Hodder Education
2022 | 408pp | £25.99
ISBN: 9781510462571
Since completing my NQT year, I have taken pleasure in assisting student and newly qualified teachers in developing their practice. In doing so, I've spent a lot of time reflecting on my own practice to pass on my best hints and tips. This is nothing new as I love to nosey for new ideas. So when a copy of Chris Harrison's Teaching secondary chemistry fell into my hands recently, I want to say it was fate.
Much like Declan Fleming noted on the previous edition, in this third edition of Teaching secondary chemistry each chapter is filled with foolproof teaching activities and probing discussion questions, alongside possible misconceptions and how to address them. I feel it would be extremely helpful for colleagues who may be picking up S3 and S4 classes without prior knowledge of the pupils' earlier educational experiences.
There are excellent suggestions for scaffolding practice
I was a little disappointed at the lack of references to Scotland's curriculum, as all other nations are mentioned. A comparison of the key stages in England's and other nation's curriculums with Scotland's would be useful. Having said that, it is fairly easy to suss out.
I picked up an abundance of quirky facts about the history of science from the book that I'll be using to enrich my lessons. I'll also be slotting the detailed mathematical requirements for chemistry into my introduction lessons as I usually take a vaguer approach on this. There are excellent suggestions for scaffolding practice and it is jam-packed with high-quality references. Some of these could also be useful as underlying chemistry references in students' projects for their Advanced highers.
One area I find pupils always struggle with is switching from word equations to chemical equations, and vice versa. The idea of using 'fake names' for chemicals when developing students' skills in this area is really enjoyable. I'll certainly be trying it out.
Reading list
Looking for further reading on how to teach chemistry topics? Check out our CPD articles – categorised by age group, this collection of articles offer ideas for classroom activities, suggested strategies for overcoming misconceptions and checking for understanding.
Teaching secondary chemistry also provided reassurance and positive affirmation. I and the rest of my department already use many of the ideas. My absolute personal highlight among the chapters was the inclusion of 'cross-disciplinary facts'. If nothing else, reading this will improve your French and impress your pupils.
All joking aside, the book has a lot to offer. I will be recommending it to all early career teachers.
Purchase Teaching secondary chemistry from Amazon.