The Periodic Table: elements with style!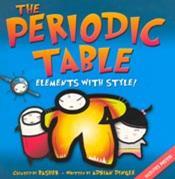 Adrian Dingle and Simon Basher
London: Kingfisher 2007
| 128[[ | £6.99 | ISBN 0-753-415-115
Reviewed by Wendy Pitt
This cute little book is designed 'to make learning chemistry much easier and a whole lot more fun', and it does exactly that. Its shape and size - almost pocketbook - set it apart from textbooks and will make it attractive to children.
Aimed at pupils aged 10+, the text introduces many but not all of the elements. Each element is covered in a double-page spread. On the left-hand page is a 150-word introduction, written in the first person by US high school chemistry teacher Adrian Dingle, plus some physical data (density, melting point, boiling point and more). Each element's personality is developed further by a funky cartoon-style character on the facing page, created by London-based artist Simon Basher. Chemistry teachers might use the book at the start of a Key Stage 3 lesson by reading the first-person introduction on 'today's element' and getting their students to work out to which element it refers.
The elements are presented in their Groups as we cross the Periodic Table left to right so that chapter one covers the alkali metals, and chapter three the transition elements. There is a useful glossary - 22 words explained - and an index which makes finding an element by its name, Group name or Group number easy. A Periodic Table poster populated by Basher's colourful characters is also included.
I would have preferred to have seen the noble gases as Group 0 rather than Group VIII, atomic mass instead of atomic weight, and for each element's name not to begin with a capital letter except at the start of a sentence because this habit is often picked up by children. These points aside, this endearing book would make a fun birthday gift or Christmas stocking filler.