My GCSE textbook of choice
My GCSE textbook of choice
Chemistry for You (5th edn)
Lawrie Ryan
Oxford University Press
2016 | 408 pages | £30 (PB)
ISBN 9780198375760
Reviewed by Naomi Hennah
amzn.to/2lRo0WH
[Add 'S' symbol]
Lawrie Ryan
Fifth edition
Oxford University Press
2016 | 408 pages | £30
ISBN 9780198375760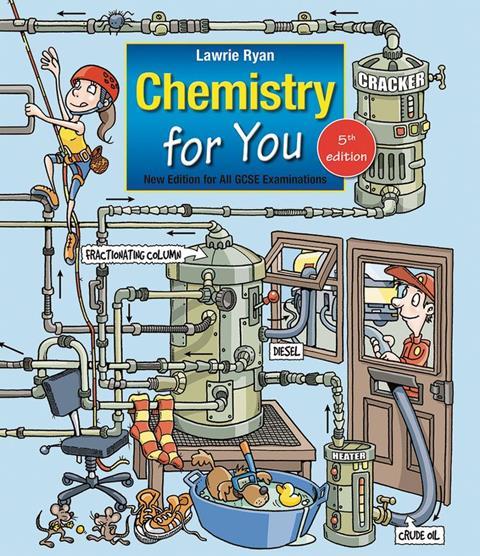 Chemistry for You has been updated for the 2016 (9–1) GCSE chemistry and international specifications. Having clung on to my 2001 copy as a lifeline to introduce essential chemical concepts throughout my teaching career, I welcome the 5th edition with open arms.
From the engaging and entertaining cover onwards, the book remains largely unchanged in character, being both accurate and accessible. I am pleased to report that the droll cartoons, puns and rhymes are all still present, alongside colourful graphics. New chemical words are printed in bold and key learning points highlighted in boxes.
The book is packed with questions, opportunities to review learning and to test understanding, as well as suggested practical opportunities. I am particularly impressed with the resources that support the move of practical assessment into exams and the section for developing maths skills. Although formula ('magic') triangles have been included, so too has a simple algebraic explanation of the balance model for changing the subject of an equation.
I would have liked the methyl orange indicator pictures to be updated as the colour changes could be clearer, otherwise my only criticism is the book has been released after schools have made their investments for the new curriculum. The likelihood of obtaining a class set of these books now is greatly reduced.
Chemistry for You is a great resource. It will foster interest, help to develop a greater understanding and enhance the learning of chemistry when used in school or at home. I would use this book as a resource to plan and deliver: extension material at key stage 3; first year A-level intervention to help individuals to catch up; and GCSE chemistry. This will be a great investment for parents and schools.