Wendy Pitt reviews this book, CD-ROM and molecular jigsaw kit
Peter Hollamby
Waltham Cross: Teaching Resources 2008 | Pp170 | £21.83 ex VAT |
Reviewed by Wendy Pitt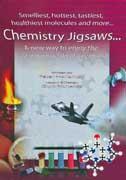 This resource, which comprises a book, a CD-ROM and a molecular jigsaw kit, is a joy for anyone interested in the mysteries of the chemical world around us. The accompanying jigsaw kit makes learning fun, is challenging and will help students develop a clear understanding of formulae and equations.
The book's introduction explains clearly how to use the kit. Fourteen chapters cover almost 100 compounds and include 'smelly, horrible, hot 'n spicy, poisonous, and naughty molecules', which will immediately appeal to the average 14-year old. The final chapter provides a few chemical reactions to try at home and model with the jigsaw kit.
The presentation is excellent. Each page contains the name and formula of a substance, a skeletal formula of the molecule, a list of the jigsaw parts needed to construct the molecule, one or two relevant pictures, which put the substance into everyday context, and information about the chemical. Where met, difficult words are explained simply, eg anticoagulant - blood-thinning. Only the most able student could use the jigsaws to build the molecules from just the skeletal formulae so the appendix includes useful pictures of the molecules constructed from the jigsaw parts.
A disappointment for me was the CD-ROM, which contains only a recording of each of the chemical names to help with reading. I expect a CD-ROM accompanying a textbook to add something special. Perhaps the author might consider adding a recording of himself reading the information contained within the book so that students who avoid reading might then, encouraged perhaps by their teachers, load the tracks onto their MP3 players and listen.
This complete set will make an excellent gift for the 13-14-year olds in the family (a slightly cheaper version with only the book and CD-ROM is also available). The author has advised me that there is also software support available, which teachers can buy using e-credits and get free jigsaw kits with the software.