Web watch: Tony Tooth looks at some websites that may be of interest to chemistry teachers
ChemToddler
ChemToddler is a collection of nearly 50 video clips which demonstrate a wide range of reactions and laboratory techniques. Ignoring the background music, there is much to enjoy here with well-filmed clips that typically last for about two and a half minutes.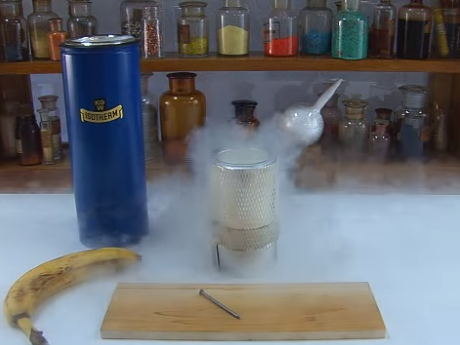 Some classic experiments are shown, including demonstrations with liquid nitrogen. The thermite reaction is performed using the flowerpot method so that the viewer can see a stream of molten iron (shown in slow motion) emerging from the hole in the base of the flowerpot which falls onto a tray of sand below.
Some of the material inevitably has greater visual impact than others. For example a video of TLC is enlivened by the use of UV active materials viewed under black light. The reactions of iron, phosphorus and aluminium with bromine are also included, together with some nice illustrations of equilibrium.
The site will be particularly beneficial in showing experiments which are not normally available to schools, for example the properties of heavy water in the form of ice cubes.
The Human Touch
The Human Touch [link no longer available] is sponsored by Tata Chemicals in India who explain: 'the content has been specially selected to encourage a love for chemistry and add to the knowledge that students are already imparted through the school curriculum. The website includes information spanning different topics and includes environmental issues like climate change, explanation of how chemicals react, naturally occurring chemical compounds, indispensible use of certain chemicals etc.'
It is mainly aimed at a younger audience as there is little detail about the chemistry involved in the various processes covered. However, as an introduction to research or discussion there are some interesting articles and they are written in a manner that will make them very accessible to a wide audience.
For example, in the History and Future section, the article Rust-eating bacteria introduces the bacterium which was discovered eating the rust on the wreck of the Titanic and suggests its possible use for the extraction and recycling of iron. The Everyday Chemistry section explains phenomena such as how and why you can make milk froth on coffee. This section alone runs to nearly 20 pages and includes over 100 articles with titles as diverse as Why ice cubes are cloudy on the inside, Why does stainless steel remain stainless and Why do old books become yellow?
Clicking the Periodic Table link also leads to very accessible and interesting background information on the elements such as their discovery, extraction and, in particular, uses.
If you know of any websites that should be reviewed in Education in Chemistry, then email the title and URL to EIC.
Contact and Further Information
EiC Editorial Office
Royal Society of Chemistry, Thomas Graham House, Science Park, Milton Rd, Cambridge CB4 0WF
Tel: +44 (0)1223 420066
Email: EiC Editorial Office