Hal Sosabowski reviews the new edition of Chemistry
Chemistry (3rd edn)
Rob Lewis and Wynne Evans
Basingstoke: Palgrave 2006 | Pp464 | £22.99 | ISBN 0 230 00011 8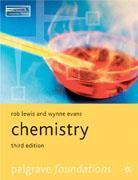 This book is one of the Foundation series published by Palgrave. The series aims to provide complete yet concise coverage of core topics in a particular discipline, and this text does just that for chemistry by offering a generic course in chemical literacy for non-specialists.
The authors have immediately grasped an important nettle with regard to the basic skills students need to succeed in their chemistry studies. Essentials such as numbers, units and measurement errors, and reporting measurements, are elegantly addressed in chapter one.
This is a comprehensive introductory undergraduate text covering all the essentials required for a foundation chemistry course. Interestingly, in this third edition the text also gets fairly applied inasmuch as there is a new section on forensic chemistry. This approach may seem slightly incongruous upon first inspection; a general, foundation chemistry book with a chapter on applied chemistry but I found it works well.
The text is enhanced by the inclusion of many interesting asides, designed to encourage students to dip into the book. I found the small case studies such as Was Napoleon murdered?, Lewis and Pauling, and Extraction of caffeine by SFC riveting.
There is a companion website to the book, which is probably expected in this age. The site includes appendices, a Periodic Table, a link to 'miscellaneous resources' and a collection of six case studies which cover a whole spectrum of relevant topics (enzymes, haemoglobin, the hydrogen economy, spectroscopy and astronomy, unusual alkanes and landfill). These are particularly absorbing, and on several occasions I have found myself becoming engrossed in the fascinating science described.
This new edition of Chemistry has a second colour throughout to enhance its appearance. The semi-monochrome diagrams often offer stark, uncluttered clarity and focus. The price at £22.99 wouldn't put me off buying the book. However, in the current, overcrowded undergraduate chemistry textbook market I wonder if the absence of full colour might cause this otherwise excellent book to be overlooked.