Combining the reviews of the 'GCSE formative assessment tasks' textbooks,Trevor Critchley provides a comprehensive view of these teaching resources, their strengths and weaknesses, and how best to utilise them.

GCSE formative assessment tasks
GCSE formative assessment tasks - core science
Andrew Grevatt and Mark Evans
Stevenage, UK: Badger Publishing 2011 | Pp138 | £99 (HB) | ISBN9781849264174
Reviewed by Trevor Critchley
GCSE formative assessment tasks - additional science
Andrew Grevatt and Mark Evans
Stevenage, UK: Badger Publishing
2011 | 132pp | £99 (PB)
ISBN 9781849264181
GCSE formative assessment tasks - chemistry triple science supplement
Andrew Grevatt , Mark Evans and Victoria Stutt
Stevenage, UK: Badger Publishing
2012 | 50pp | £63 (PB)
ISBN 9781849264204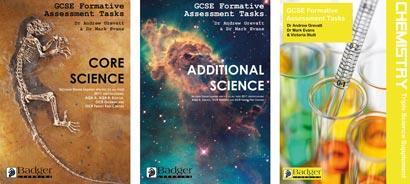 These books provide a wealth of good quality off-the-shelf resources, with twelve tasks for each of Core and Additional Science, covering ideas from the major topics common to all three main examination boards. Students are generally asked to write a short report to demonstrate their understanding of a topic.
Each of the sciences has one webquest which provides links to useful information and video clips from the Badger Science website, where you can access free sample pages. A short PowerPoint presentation introduces each task, along with a starter activity and a suggested structure for the report. The books include all of the files on a CD, along with SCORM versions for use with a VLE.
The broad and open-ended nature of the tasks is a real strength, with the new emphasis upon quality of written communication at GCSE. These are well-designed formative assessment tasks that allow students to express their understanding beyond the constraints of the often formulaic questions found in past exam papers. My students found the Rates of Reaction task stimulating, and I am convinced that teachers will consider these tasks well worth the time and effort required.
The short triple science supplement for chemistry has five similarly designed tasks, including a nicely differentiated webquest about ethanol production, which might be equally appropriate for students studying Core Science. Depending upon the examination board, there may also be some crossover in the other topics featured, for example Electrolysis, which is an Additional Science topic for AQA. With terminal examinations looming on the horizon, however, this is unlikely to cause anyone any major problems.
I feel that some element of further stretch and challenge might have been extended to the other tasks to increase the level of demand. For example, it was surprising not to see Le Chatelier's principle anywhere in the assessment criteria for the Haber process task.
My sole reservation is the unwieldy grade ladders that are supplied for each task, which are definitely not in 'pupil-speak'. The descriptors for grades A, C and E are way too long, and also sound a bit too similar for my liking: the differences between them are not clear enough for teachers, let alone students. It might waste some time, but they do need shortening and re-writing in plain English to be of real value for student self-assessment as they are clearly intended. However, as they are all included as Word documents on the CD, this shouldn't put you off, and I would still recommend these books as long as you are prepared to adapt the materials for your students.
Related Links
Assessment for learning resources
Purchase these resources from Badger Science