Mike Shipton reviews this unusual text
Lust and love: is it more than chemistry?
Gabriele Froböse and Rolf Froböse
Cambridge: RSC 2006 | Pp212 | £24.95 | ISBN 0 854 04867 7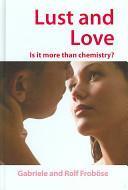 Older readers may remember Helga and Michael, a dramatised documentary film on sex education released in 1968. While the film gave an insight into the physics and biology concerned, this new book, published by the Royal Society of Chemistry (RSC), uses a similar approach to deliver a chemical perspective on love, desire and passion. We are invited to engage with the topic through following the events of a day in the lives of Bianca and Michael, a fictional couple.
This is an unusual work. The reader could find the information this book contains elsewhere, but its strength is in the way it brings together an eclectic mix of material in a concise, coherent manner. We are treated to forays into the fields of biochemistry, neurology, psychiatry and psychology to name just a few. In addition, our general knowledge is extended through inclusion of topics, ranging from the development of perfumes through the history of lipsticks to the health benefits of masturbation.
The content is so absorbing that one wonders if the fictional backdrop is really necessary. It is superfluous, though not irritatingly so.
Lust and love: is it more than chemistry? is an accessible read. Although, of necessity, the authors use a wealth of technical vocabulary, terms are carefully explained as they arise. There are few conceptual challenges that a good A-level student could not handle. Boxes are used to isolate material the authors have chosen to develop in more detail and so avoid disrupting the flow of the text. For a book priced £24.95, the number and quality of the illustrations both disappoint.
A comprehensive index allows the reader to dip into the book easily to retrieve snippets of information. The authors provide a full list of further reading, but they do not annotate the text to make reference to the original sources used.
In the preface the authors state that they do not want to degrade life to pure chemistry. However, after reading their book, it is difficult to provide any other answer than: 'No', to the question they pose in its title.