Web watch: Josh Howgego looks at some websites that may be of interest to chemistry teachers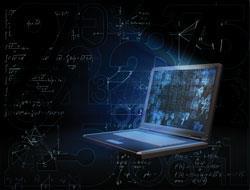 When I started my chemistry degree in 2004, I was not equipped with an A-level in mathematics. But people like me are becoming rarer: as competition for places on chemistry degree courses hots up, many universities are demanding that their candidates are adept at mathematical techniques.
Maths E.G. is a database of some 2000 maths questions, covering topics from GCSE to early degree level. The site has a nice feel, and has obviously been thought through properly. For example, most of the questions have been 'reverse engineered' to give whole number answers, according to one of the website's developers, Martin Greenhow, an applied mathematician from Brunel University.
Greenhow says the website doesn't have chemistry in mind specifically. But maths is sometimes called the universal language of science, and pure maths knowledge and application is important in a range of chemical topics, from thermodynamics to group theory. Greenhow is also aiming to collaborate with chemists to include some 'proper' physical chemistry examples.
A nice function is the teacher's area of the site. Teachers can (after a short and painless sign up process) access a searchable database of questions ordered by topic, syllabus and difficulty. When an example comes up that seems to suit your purposes, add it to the basket. When you're done adding questions, the 'basket' of questions can be saved as a unique test webpage which students can complete online, their marks being recorded automatically. It's quite neat.
This is clearly a site designed with maths teachers in mind, but the inclusion of topics like Fourier transform, matrices and vectors mean there is plenty of relevant maths for chemists to get their teeth into too; these topics are important concepts at degree level. There's also plenty of practice at differentiation and integration, which are less chemistry specific, but vital for any scientist to get their head around nonetheless.
Also consider
This site brings together a series of resources and tailored maths support specifically for the needs of chemists.
Related Links
A database of 2000 maths questions from GCSE to early degree level
A series of resources and tailored maths support specifically for the needs of chemistry students
Contact and Further Information
Josh Howgego
If you know of any websites that should be reviewed in Education in Chemistry please email the title and URL to Josh Howgego.
Email: Josh Howgego