Mark Griep and Marjorie Mikasen
Oxford: OUP 2009 | Pp340 | £32.50 | ISBN 978-0-195-326-925
Reviewed by Peter Hollamby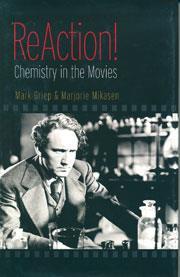 Mark Griep is an associate professor of chemistry at the University of Nebraska-Lincoln and is married to Marjorie Mikasen a geometric painter. They were awarded an Alfred P. Sloan Foundation grant for the public understanding of science to do the research for this book, which examines the relationship between film narratives, featuring chemical themes, and the real world of chemistry.
About 150 movies are used to illustrate on the one hand, the perceived darker side of chemistry, with Dr Jekyll and Mr Hyde, and The invisible man, and on the other, a more constructive, positive and lighter side with Madame Curie, Medicine man, and The nutty professor.
Each chapter starts with a useful table, listing each film and the relevant chemistry associated with it. The film is then summarised and analysed for its credibility. Chapters cover: Dr Jekyll's 'transformative formula'; invisibility and crime; chemical warfare; toxic waste; drug misuse; wacky inventions; forensic chemistry; pedagogy; chemistry research; and drug development. Griep provides a lot of supplementary chemistry facts and principles to consolidate his views, which in some cases could be analysed or interpreted differently by the reader.
It is hard to imagine a teacher who would not want to add spice to a lesson or lecture where some aspect of chemistry in the movies is used to engage and motivate students. This book certainly provides a catalogue of opportunities to do so. As a retired school teacher, however, I would have preferred a book with a lighter touch.
I feel that this text might be more appreciated by a university lecturer who teaches undergraduates than a school teacher trying to motivate a class of year 10 pupils. With this in mind I would have liked to have seen such films as Waterworld, The sixth day, and Fight club covered. However, some of these films do feature in Education in Chemistry's InfoChem in the On-screen chemistry series, which is written in a very engaging way by Dr Jonathan Hare of the University of Sussex.
I found the appendix to this book, which outlines how a teacher might use films in a classroom, unhelpful. It would, for example, be impractical to show, as recommended, a whole film to a class of school students because of the constraints of the National Curriculum. And to suggest that 'VHS tapes are wound to appropriate sections before being shown to the class' is outdated - many teachers are now editing films in electronic format and embedding the clips into PowerPoint presentations or uploading clips to a VLE.
That said, I have shown the 'chromatography' sequence from Medicine man to sixthformers. In this clip Dr Rae Crane (Lorraine Bracco) points out to Dr Robert Campbell (Sean Connery) that a compound (peak 37 in a chromatogram) is 'Mother Nature's kitchen, end of story'. What appears on a computer screen is a fictional molecule (inaccurately reproduced in the book) but I think serves to represent the fact that the processes in the film are plausible. For example, a cancer-curing drug, Paclitaxel, has been isolated from the bark of the Pacific Yew tree, and is marketed as Taxol and is used to treat patients with lung, ovarian, breast, head and neck cancers.
No school teacher should be without the capabilities of bringing 'Hollywood' into the classroom especially where the chemistry context motivates, consolidates and educates students of all ages. Mark Griep and Marjorie Mikasen's book is likely to act as a catalyst to do that.