Tony Tooth looks at some websites that may be of interest to chemistry teachers.
Knockhardy Publishing
I recommend this site as the first stop for A-level chemistry teachers, especially for teachers new to AS/A2 teaching. Produced by Jonathan Hopton, the materials on the site have recently been updated to reflect a change of emphasis from the AQA specification to OCR, though you can still access the old AQA materials. The site provides access to a vast array of worksheets, notes, revision sheets and multiple-choice tests, along with some animations of mechanisms and other ideas lifted from the PowerPoint presentations. New for the 2008 OCR specification are notes on green chemistry, fuel cells, and errors and measurement.
However, in my opinion, the real treasure trove is Hopton's collection of PowerPoint presentations, which can be found at Knockhardy website. This set of high-quality presentations is designed to support your teaching of any topic in chemistry. Diagrams are clear with intelligent use of colour, explanations follow a logical sequence and, overall, each slide and presentation is well laid out. New arrivals in this section include presentations on green chemistry, entropy, solubility products, chemical synthesis, and chromatography.
Chemguide
Jim Clark's site is another excellent resource to support AS and A2 chemistry teaching. Designed as individual webpages, the content is clearly explained, well laid out and includes excellent diagrams. However, the real strength of this site lies in the logical and easy-to- navigate menu. For example, choosing the 'Atomic Structure and Bonding' link from the index page leads to a webpage with further links to 'Basic Atomic Properties', 'Bonding' and 'Types of Structure' - each of which is accompanied by a summary of the content. The 'Bonding' link leads to another menu that provides links to information on all the different types of bonding as well as a link to a section on shapes of molecules. At each stage there are obvious links back and to related sections of the site.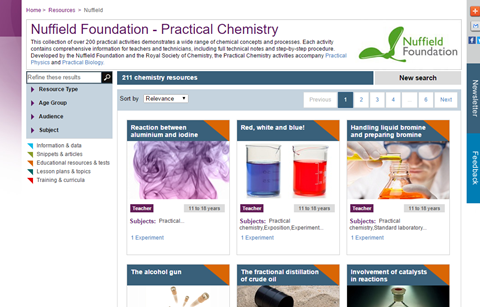 Practical Chemistry
Emma Woodley of the Nuffield Foundation Curriculum Programme edits this website, which is a collaboration between the Royal Society of Chemistry (RSC), the Nuffield Curriculum Centre and CLEAPSS. The site aims to 'describe tried and tested chemistry experiments, in sufficient detail that they will work in any school laboratory'. There are now over 200 experiments described in detail, which users can review as a full list (as well as experiments to be added in the near future) or search by topic at introductory, intermediary, advanced or enhancement levels.
There are also notes about teaching and learning, and a few links to useful websites. This is a particularly useful resource for teachers and technicians who want to develop their practical craft in chemistry.
Related Links
Knockhardy Publishing produces notes and other resources for AS and A2 Level Chemistry
Helping you to understand Chemistry
This website provides all teachers of chemistry with a wide range of experiments to illustrate concepts or processes
Contact and Further Information
Tony Tooth
If you know of any websites that should be reviewed in Education in Chemistry, please send the URL to our Web watch reviewer
Email: Tony Tooth