New evidence shows that A-levels in a range of subjects fail to equip students with an appropriate level of maths skills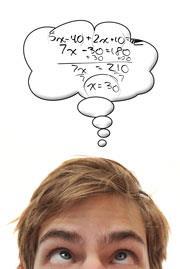 This, and research revealing the differences in mathematical difficulty between different exam boards' papers, has led leading learned societies and education experts to make recommendations for the upcoming A-level reform.
SCORE (Science Community Representing Education), a collaboration of leading science organisations, has published a report which analyses the type, extent and difficulty of maths in the 2010 A-level examination papers for the three sciences.
The report considers three areas; whether the type of maths in the exams was suitable for progression to higher education, the proportion of the exam that depended on maths knowledge, and the complexity of the maths questions. The report says that a perceived consequence is that if maths content areas are frequently not assessed, then these areas will not be taught or practised in depth.
Professor Graham Hutchings, Chair of SCORE, said, 'Our findings are worrying. A significant proportion of the mathematical requirements - put in place by the examinations regulator, Ofqual, for each of the sciences - were simply not assessed and, if they were, it was often in a very limited way and at a lower level of difficulty than students will need to progress to degree level or into relevant employment.
'Mathematics enables students to understand and describe many scientific phenomena. Without learning some mathematical techniques, students are missing out on gaining a full understanding of the scientific ideas.'
The proportion of the assessments that required the use of maths varied between exam boards' papers for each subject and the level of difficulty of the maths also varied.
Professor Hutchings continued 'A framework must be developed to regulate the way mathematics is assessed within science A-levels to ensure parity across exam boards. We would also like to see a review of the current mathematical requirements for each of the sciences at A-level to ensure the inclusion of underpinning areas of mathematics within that science.
'These reports identify the important role professional bodies can play in A-level design. As independent organisations, capable of bringing together teachers, academics and representatives from industry, the professional bodies are perfectly placed to ensure A-levels are fit for purpose and could provide the basis of a National Subject Committee for the development of A-level qualifications.'