The RSC's Learn Chemistry website has won an Education Resources Award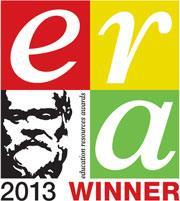 Learn Chemistry, the RSC's online platform for chemistry education resources, has won the Education Resources Award for 'Best Secondary Resources or Equipment - Including ICT'.
The results were announced at the annual Education Show on 15 March in Birmingham , UK . The judges said that Learn Chemistry was 'an inspiring, engaging, stimulating resource that could promote higher order learning - turning potentially 'dry' subjects into something interesting and exciting.'
Nicole Morgan, the RSC's schools and colleges manager, said: 'We are delighted to have won this award, which recognises the efforts of many staff, authors and reviewers who have contributed to RSC education resources over the decades.
'It is a fantastic achievement for the Learn Chemistry team, who work hard to ensure the needs of pupils and teachers are met. The website is constantly changing and improving in response to feedback.'
The Learn Chemistry website was shortlisted for the award earlier this year alongside products from publishers such as Collins Education and SAM Learning.
Run by Brilliant Marketing Solutions and the British Educational Suppliers Association, the Education Resources Awards are now in their 15th year. They aim to encourage improved resources and standards throughout the education sector in the UK.
Related Links
Education Resources Awards
Celebrating high quality educational products and services