The Cambridge Chemistry Challenge (C3L6) is celebrating a 45% increase in the number of entries to its Lower 6th competition. More than 6200 students from across the UK completed the paper this year, which is designed to stretch and challenge their chemistry knowledge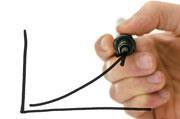 The competition invites Year 12 students to tackle a 90 minute exam that stretches participants significantly beyond the AS-level chemistry syllabus. Peter Wothers, part of the team that runs C3L6, said that it is 'designed to show that chemistry can be interesting, challenging and relevant - an alternative to the formative assessments students typically experience at school'.
Students from 435 different schools entered the competition. Such is the challenging nature of the exam that a mark of 20 out of 60 is considered 'a very good achievement', receiving a 'copper' award. This was attained by 37% of those who entered.
Only 48 students (0.8%) received the highest award, 'roentgenium'. They have been invited to a special residential course in Cambridge to expand and enhance their understanding of chemistry and stretch their abilities even further.
This year the test included questions based on the chemistry surrounding two recent news stories: the discovery of the oldest sample of water on Earth and the controversy surrounding horse meat in processed foods.
The challenge is supported by organisations including University of Cambridge International Examinations, OCR and the Royal Society of Chemistry (RSC). Nicole Morgan, RSC schools and colleges manager, said: 'We are delighted to support the Cambridge Chemistry Challenge. It raises awareness of the role of chemistry in society and stretches the abilities of all those who attempt it. In addition, the exam for Year 12 students serves as excellent preparation for the RSC's UK Chemistry Olympiad, which is aimed at students in Year 13'.
C3L6 also runs a web-based competition that is open to all. 'Google-proof' questions are posted online each month from November to June.
Related Links
Cambridge Chemistry Challenge
Take part in the monthly online challenge