GlaxoSmithKline (GSK) has announced the launch of a new multi-disciplinary apprenticeship scheme. The programme is aimed at 16-24 year olds and offers positions at the company's UK manufacturing, research and development (R&D) and corporate sites.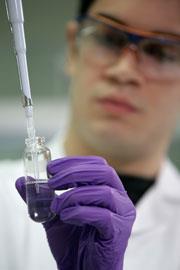 The scheme will commence in August this year and GSK will take on 40 apprentices in the first intake. The company has historically taken on engineering apprentices, however this new scheme will offer R&D laboratory technician, IT, manufacturing, supply chain management and artwork design opportunities, at sites across the UK.
Apprenticeships will last between two and four years, and require a minimum of 5 GCSEs at grade C or above. All roles will consist of a combination of on-the-job training and study modules. Should an apprentice demonstrate the skills and behaviour GSK is looking for, they will be offered a role with the company at the end of the programme.
Natalie Woodford, a senior vice president at GSK, said: 'GSK is committed to attracting and developing talent at all levels, and youth training and apprenticeships have a vital role in building the right skills our employees need for the future.'
Skills Minister John Hayes MP said: 'The government has significantly increased investment in apprenticeships because we know they work for businesses and employees. The unique combination of high-quality training and meaningful work experience they offer helps to build a workforce with the skills our economy needs to grow. I am delighted that GSK are not only hiring new apprentices, but also expanding their programme to cover a wide range of new disciplines.'
The apprenticeship scheme is complementary to GSK's existing established graduate and undergraduate recruitment programmes. Last year, the company announced plans to reimburse 100% of uncapped tuition fees for up to 100 students recruited under the company's graduate scheme. GSK also takes on hundreds of undergraduates annually in the UK, on year-long industrial placements across the business.
Related Links