On-screen experiments go live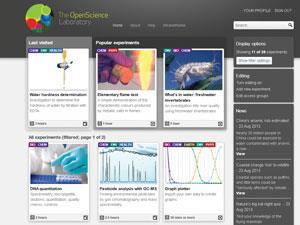 In July the Open University launched their online experimentation initiative, OpenScience Laboratory, at the Royal Society in London. The project includes numerous photorealistic interactive on-screen experiments, remote access to laboratories and citizen science projects.
Online experiments use real data to enhance learning and increase engagement with practical experiments. They offer functionality such as the ability to zoom into the micro scale, instant spectroscopy data and time lapse photography that enable students to quickly home in on the purpose of the experiment.
Jim Iley, the Royal Society of Chemistry's executive director for science and education, said: 'The OpenScience Laboratory represents an exciting development from the Open University. While interactive screen experiments should never be a replacement for high quality practical work in schools, they do open up the potential for students to explore areas of science they may not normally have access to. And remote experimentation and citizen science projects enable students from many locations to engage with others collaboratively.'
There is growing evidence that virtual labs can offer new insights for students who use them. Student led enquiry-based learning by observing outcomes and making changes online can offer more than following a recipe style procedure in a class science practical can.
The Royal Society of Chemistry is currently planning new online learning initiatives for Learn Chemistry and would like to hear from teachers.
Please contact Lee Page, RSC education executive, to tell him what you think of this approach and suggest your ideas.