SCORE, the group of organisations which works together to develop policy on science education, has embarked on a project to look at the level of resources provided in schools for teaching practical science.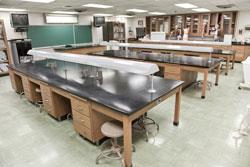 The group is concerned that there is a wide variation in how science education for 5-19 year olds is resourced in maintained schools. They fear that this variation is likely to affect the quantity and quality of practical work taking place. To understand these concerns in more detail, SCORE plans to gather evidence on the extent to which schools in England have access to and appropriate use of laboratory facilities, equipment and consumables, technicians and outside space.
'It will be interesting to see if the Building Schools for the Future programme has had an impact on the quality of school science laboratories' said Nicole Morgan, RSC Schools and Colleges Manager and SCORE committee member. 'This will provide useful guidance for future school building programmes, especially considering the growth of the free school movement'.
An initial phase of school visits and case studies has already been completed by the Association for Science Education (ASE). The next phase, surveying 10% of English secondary schools and a similar number of primary schools, will begin this summer. The final project report will be published in early 2013.
This comprehensive investigation will provide an update to a report published by the RSC in 2006. Laboratories, resources and budgets looked at the provision for science in secondary schools in England. It found that only one third of refurbished and newly-built labs had a fume cupboard and in 16% of cases the quality of prep room provision had deteriorated.
Also of interest
Improving School Laboratories?
12 October 2006
Report on the number and quality of new and refurbished laboratories in schools
SCORE - Science Community Representing Education
A partnership of organisations which aims to improve science education in UK schools and colleges by supporting the development and implementation of effective education policy