The rocket system that will be used in 2014 to the Bloodhound supersonic car has been successfully tested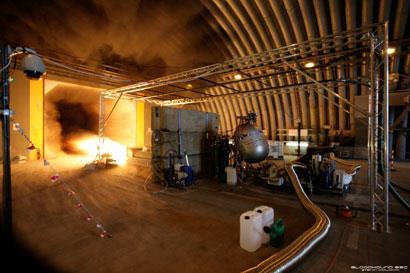 'Ladies and gentleman, that is what a 1000 miles an hour engineering adventure is meant to look like,' announced Andy Green with a wide grin on his face. We had just witnessed the successful test of the rocket system that will be used in 2014 to launch Green in the Bloodhound supersonic car across a mile of South African desert in less than 3.5 seconds.
Over 400 people, including engineers, sponsors, media and local schoolchildren, were watching the test on a screen inside a hardened air shelter at RAF St Mawgan, Newquay, just 200 metres from the rocket. Not since the Apollo program has a project like this been so open to the public and engaged with the education sector during its development.
The Bloodhound project covers a wide spectrum of STEM subjects, from examining the integrity of the wheels using X-rays to adjusting additives in the fuel to make it burn stably. There are Bloodhound education ambassadors demonstrating this in nearly every area of the country, visiting schools and inspiring students to become the scientists and engineers of the future.
The test was very successful, with the rocket producing even greater thrust than expected - an earthshaking 63,000 kN. At 185 dB, it was the loudest noise on the planet that day. Ironically it won't be long before that rocket will break the sound barrier and the land speed record.
Find out more about the Bloodhound project with our May 2012 feature article