Science departments recognised for excellent teaching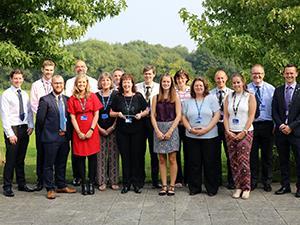 Schools across the UK have been celebrating receiving the prestigious Science Mark award, designed to promote and recognise outstanding science teaching.
The awards were created in 2014 by STEM Learning and are available in three categories: silver, gold and platinum. So far, fewer than 20 schools have obtained this exclusive recognition.
Di Payne, head of science at South Bromsgrove High, recipient of a gold award, is pleased that '[Science Mark] enabled us, as a science team, to recognise how much we do, and what a fantastic offering we give to students'. '[Applying] is definitely a commitment, but it's very rewarding. They encourage you to amass evidence about your activities and find out what a great job you actually do.'
The application process includes a complete, personalised assessment to help science teachers find the weaknesses – and also the frequently underestimated strengths – of their departments. The process may take the whole academic year, but schools are guided through action plans that improve the quality of their science programs.
'Science Mark supports schools to evaluate, celebrate and strengthen their science provision.' says Adam Little, professional development leader at STEM Learning. 'In some cases, after the assessment schools jump from gold to platinum – they don't realise they have much better departments than they thought.'
St Clement Danes School in Chorleywood received the platinum award earlier this year. Mandy Quinton, physics teacher at St Clement Danes said: 'It has been wonderful for the science department and the school to have received this award. Going through the application process not only challenges your department to take a long, deep look at itself, but it also assesses which areas could be improved.'
Adam believes in Science Mark being an opportunity for schools to grow. 'In one of the schools, the head of science couldn't complete the application, and was taken over by the head technician. They ended up getting the gold award, and the technician decided to train as a science teacher. He succeeded, and this very September started teaching science.'
The benefits of receiving the Science Mark are not just confined to the individual school. Adam says award winners should 'be beacons of the local community, […] promoting good practices in their towns and also across the country.'
Registration for this year's awards is open until 30 January 2017. More information is on the STEM Learning website.