The Department for Education (DfE) has published a consultation document that sets out the Government's plans for GCSE reform in England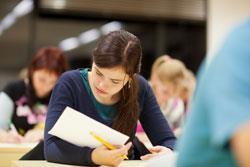 The proposals call for a single awarding organisation for each subject, which would be shortlisted by Ofqual, but selected by the Secretary of State for Education.
The DfE expects awarding organisations to work directly with higher education institutions and learned societies to create a syllabus for each subject, something the RSC has called for in the current review of A-level qualifications.
However, this proposal is contrary to the conclusions of the recent inquiry by the House of Commons Education Select Committee. The committee supported the creation of single national syllabuses, for which any awarding organisation could offer an exam. Graham Stuart, the committee chair, said that one exam board per subject 'would create its own difficulties over pricing, tendering and the concentration of expertise.'
Jim Iley, the RSC's executive director of science and education, said 'The RSC has always said that issues with GCSEs were not down to the pupils or the teachers, but to a flawed system. We welcome the proposal to have one exam board per subject, as that should prevent the erosion of standards that has come about through market competition.'
The Government has signalled that it may scrap the single science qualification as part of the reforms. The consultation states: 'We are at present unconvinced by the ability of a single science option to provide students with the scope and rigour to demonstrate real achievement across the three science subjects. However, we recognise that the current combined science GCSEs are currently a popular option.'
Other plans indicated in the consultation include the move to 100% external assessment, seeing an end to internally marked controlled assessments. A restriction on the availability of past exam papers and examiners reports has been suggested - it is hope that this will limit teaching to the test.
A restriction on the availability of exam aids such as calculators and periodic tables is proposed, in order to 'allow students the best opportunities to demonstrate their true abilities and competence'.
Teachers, together with the general public, are encouraged to read the full consultation document and respond by 10 December.