How a non-toxic ionic liquid is turning fabric production green
We inhabit a world where instructions of how to 'dress like a celeb' seem impossible to avoid, and the 'Meghan effect' enables manufacturers to sell out items of clothing in minutes. At a recent state gala, the Finnish First Lady Jenni Haukio thwarted wannabe copycats by wearing a white gown that was impossible to copy – the most important component, the fabric it was made from, will not be commercially available for at least six years.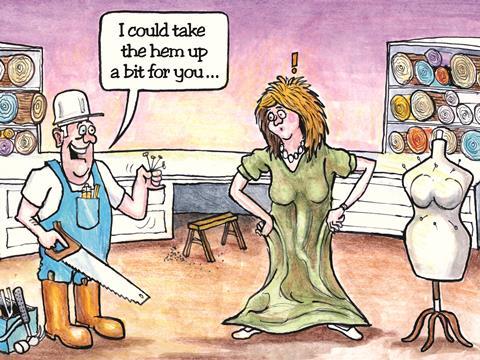 Jenni Haukio's motive wasn't to frustrate the fashion industry. Instead, she was raising awareness of the green credentials of a novel material being developed at the country's Aalto University, while simultaneously highlighting Finland's environmental prowess.
The fabric of her dress, known as Ioncell, started life as a 75 cm length of birch tree trunk. The publicity stunt worked, with the global media running articles about clothes made from wood. Many of these failed to highlight that you probably already have 'wooden clothes' hanging in your wardrobe. Both viscose and lyocell are made from wood pulp. Ioncell's USP is its green manufacturing process of its fibres.
The procedure is technically very similar to the lyocell process; pulp is ground, and then dissolved in a solvent from which cellulose fibres can be spun out. What stands it apart is the solvent choice: a non-toxic ionic liquid (liquid salt) developed in the lab of chemistry professor Herbert Sixta. (The viscose process in particular uses a host of nasty chemicals.) The ionic liquid is also collected and reused – it's a closed loop set-up.
There is currently a lot of buzz around the idea of a more sustainable global fashion industry, making Ioncell's timing as impeccable as Jenni's white dress
This new solvent can also dissolve a far greater breadth of starting materials than just the highly-purified wood pulp. Viscose and lyocell manufacture require highly-purified pulp (that is toxic chemical-heavy to produce). By contrast Ioncell manufacture tolerates low-purity raw materials. The scientists are particularly keen to utilise recycled materials, and have so far demonstrated the use of old cotton textiles, cardboard and newspaper.
The company's ultimate aim is to hand their fibres to someone else to spin into yarn and weave into fabric, but currently they are doing everything in-house. Jenni's dress was also designed and made by fashion students at the same university. And she wasn't the first famous face to be photographed wearing Ioncell. French president Emmanuel Macron was gifted an Ioncell scarf made from recycled blue jeans on a visit to Aalto University in August 2018.
The team have also used their fibres to make jackets and iPod cases. Its current focus is figuring out how to scale up the technology. The plan is to open a pilot plant in 2020, and – if all goes well – start industrial production in 2025.
There is currently a lot of buzz around the idea of a more sustainable global fashion industry, making Ioncell's timing as impeccable as Jenni's white dress. They are not the only ones keen to cash in. A number of clothing lines are now made from recycled plastic bottles, for example. A trend that must make American rapper Pharrell Williams very 'happy' – owing to his side role as the creative director at Bionic, the company producing much of this yarn.