Uncovering the detail in the recent report into degree subject, institute and salary potential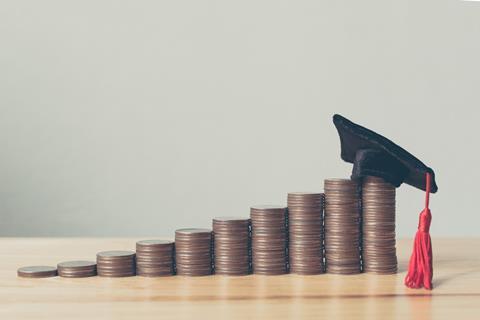 Women are much more likely to gain from getting a degree than men, according to a recent study from the Department for Education and Institute for Fiscal Studies. But the return in earnings varies widely depending on degree subject and institution. With the Augar Review on funding for higher education (HE) due this month, this latest report raises some potentially difficult questions about value for money. Is it fair to charge students £9,250 per annum regardless of course or university when there are such different outcomes in earnings?
The report finds that women earned on average 26% more and men 6% more than non-graduates at age 29, after accounting for differences in pre-university characteristics (such as GCSEs). The students attended universities in the mid- to late 2000s. The higher returns for women may be because female graduates typically work longer hours than non-graduates, as they are much less likely to work part-time, the report notes.
How much?
Results vary widely depending on degree subject. For example, female graduates in biosciences (which includes chemistry) earned 25% and male graduates 3% more than non-graduates. In physics, the figures are 38% and 10% respectively. For women, studying economics or medicine increases earnings the most (60%). Studying medicine or economics increased earnings by more than 20% for men. However, male graduates of creative arts, English or philosophy had lower earnings on average than similar non-graduates.
Institution choice is also significant. Women get the best returns from London universities – London School of Economics, Imperial College, King's College and the School of Oriental and African Studies – and Oxford. Bristol and Cambridge are added to the list for male students.
The report has some interesting new perspectives on graduate earnings, says Rachel Hewitt, director of policy and advocacy at the Higher Education Policy Institute. 'Moreover, we know that future earnings potential is one of the factors that prospective students are interested in,' she says. 'However, we need to be mindful of the limitations of using salary data to draw conclusions about the value of HE. Salary is not the only way to judge graduate success.'
The prospect of variable tuition fees is a threat to expensive science disciplines, and thus to the long-term health of the UK science base

Emma Raven, head of chemistry, University of Bristol
She also points out that the report's data is from the 2000s. It was a different time, with a Labour government, no impending Brexit and much lower student fees. 'Caution needs to be exercised in [drawing] conclusions about the labour market graduates will be entering today or the quality of institutions now. So we need to be careful when using it to inform prospective students about their likely future earning potential.'
At present, students are charged £9,250 regardless of course or university, or potential earnings post-graduation. So should courses should be priced differently, according to evidence such as this report?
Price slash?
'The prospect of variable tuition fees is a threat to expensive science disciplines, and thus to the long-term health of the UK science base, if large numbers of students migrate away from science towards cheaper subjects,' comments Emma Raven, head of chemistry at the University of Bristol. 'Most universities use cross-subsidy in one form or another to support expensive science subjects, and a change to the one-size-fits-all tuition landscape presents fiscal problems for universities. So I think it is fair to say that there is nervousness around the sector.'
Katharine Ailles is in her first year studying chemistry at the University of York. She thinks increasing charges for expensive courses, such as chemistry, would deter many people from studying science. She suggests one option would be that arts students could have the same number of contact hours a week as science students but study for two years.
Natasha Cooke, a second year biochemistry student at the University of Oxford, also doesn't think that science degrees should charge more than humanities degrees. 'Whilst it is true that science degrees often cost more with longer contact hours and more equipment, they do not always confer greater earning power. The report shows that many humanities subjects such as business, law and languages give greater earning potential than biosciences.'
Against this backdrop, the introduction of variable fees could add to the confusion and uncertainty surrounding HE as a realistic, relevant and attainable destination

Educational consultant, Neil Raven
However, she thinks there is an argument for charging less for degrees at universities which show lower potential earnings if there was 'rigorous' data to support such a move. On the other hand, she acknowledges that a price reduction could lead to a 'reduction in accountability to provide a good product'. It would also present an accessibility issue for the 'best' universities.
Educational consultant Neil Raven is also concerned about accessibility. 'The cost of university certainly represents a concern and a potential impediment to HE access and success, especially amongst those students from under-represented backgrounds,' he says. 'In many instances, these students will be from poorer households and neighbourhoods.' But cost is not the only challenge. 'Many of these students do not have access to the information, advice and guidance needed to weigh up the pros and cons of a higher education, including an awareness of the bursaries and other sources of support. Moreover, given their backgrounds many are unlikely to be able to draw on the insights of family members who have been to university. Against this backdrop, the introduction of variable fees could add to the confusion and uncertainty surrounding HE as a realistic, relevant and attainable destination.'
Maria is a science writer