Has the degree-level offering increased the numbers starting lab tech and lab scientist apprenticeships?
The government's ambition to create three million apprenticeships could be revised as reported recently by FE Week. This may well be because, as each month passes, this target looks harder and harder to achieve with apprenticeship numbers being significantly down since the introduction of the apprenticeship levy. What hasn't been reported so widely however is that takeup of the newly reformed laboratory technician and laboratory scientist apprenticeships is on the rise.
Apprenticeships in science are on the rise
According to the FE data library, from the academic year 2016/17 to July–September 2017/18 apprenticeship starts have increased by 37% and 130% in the laboratory technician and laboratory scientist apprenticeship respectively.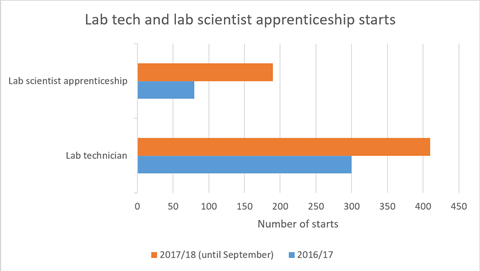 So why has there been an increase against a backdrop of apprenticeship starts more widely reducing? The reality is that it's not a simple question to answer, as there is a myriad of reasons for this. Personally, I think three of the biggest reasons are the flexibility that the new apprenticeships are able to provide, that they now extend to higher levels and that organisations (as well as individuals) are beginning to recognise the benefits they provide.
Reformed apprenticeships
The new reformed apprenticeships are very flexible in how they can be delivered. Within the laboratory technician apprenticeship there is a mandatory knowledge qualification, but how the apprentice reaches the desired level of competency is completely up for discussion between the training provider and the employer. This provides real flexibility for how competency is achieved. Within the laboratory scientist (degree) apprenticeship, the mandatory qualification is a full BSc degree, but again how the apprentice develops competency is agreed between the training provider and the employer.
Enabling apprentices to go beyond a level 3 and up to degree level has been a real game changer for the sector. It is well reported that roles within the sector often require a higher level of knowledge and so having higher levels of apprenticeships has enabled employers to 'apprenticise' existing job roles.
Benefits to business
The business benefits are vast. Cleverly constructed apprenticeship programmes help to prevent hard to fill vacancies occurring in the future, can help improve retention and allow government funding to contribute toward the training cost. If an employer has a wage bill of less that £3m then the government will contribute 90% toward the cost of training. In other words, if the laboratory scientist degree apprenticeship is pursued the government will fund 90% of that degree (which could be £24,300). For a small to medium sized enterprise (SME), this is a significant contribution to workforce development that the government is prepared to pay for.
This article first appeared on LinkedIn, August 2018.

Richard Holliday is vocational skills programme manager at the Royal Society of Chemistry
View full profile