Meet Mike Hughes, a technical specialist who is passionate about chemistry teaching laboratories and technical education pathways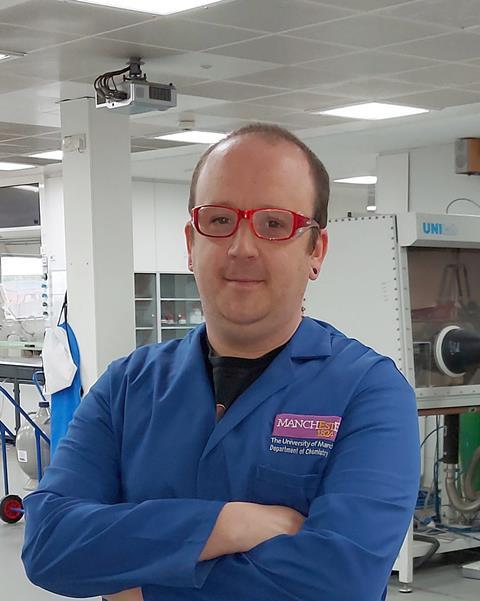 Mike Hughes began working in teaching laboratories at the University of Manchester's department of chemistry as an apprentice in 2007. Today, he runs the department's team of six teaching technicians and is a key member of the team supporting laboratory technician apprentices at the university.
'Teaching technicians run the technical side of our teaching laboratories,' explains Mike. Before classes, his team test out experiments to see if they can be improved, synthesise starting materials, make solutions and carry out instrument maintenance and calibration. 'Once the students are in the lab, we provide advice on how best to approach certain aspects of what we're asking them to do and fix the instrumentation when they break it!'.
I will have 30 to 45 different mini research projects going on in the lab – it's absolute chaos but also an awful lot of fun
Mike is a strong proponent of apprenticeships and other technical education pathways. His own apprenticeship earned him a degree in applied chemistry from Manchester Metropolitan University. Every new laboratory technician apprentice at the University of Manchester spends around six months in Mike's labs before they permanently join another team of technical specialists in one of the university's science departments. 'This year, we've taken on five apprentices and they all come to me for their basic training to get up to speed on the basics of working in the laboratory and health and safety'.
Mike supports apprentices beyond those at the University of Manchester as a member of the WorldSkills UK team that trains national competition winners for the WorldSkills International Competitions. He also advocates for technical education pathways within the Royal Society of Chemistry (RSC). In the summer of 2022, he joined the RSC Education Committee Council, which guides RSC education activities. And in spring 2023, he joined the RSC Education publishing editorial board, whose remit is to support the Education in Chemistry magazine and other RSC teaching resources.
What are the best and the worst aspects of your job?
The best parts are working with enthusiastic students and that no two days are ever the same.
The worst thing about my current management role is that I feel like I spend way too much time in an office rather than in a laboratory.
What is your favourite time of year in the undergraduate teaching laboratories?
In the second semester when third year students carry out a research programme that they have designed themselves. I will have 30 to 45 different mini research projects going on in the lab – it's absolute chaos but also an awful lot of fun.
Which undergraduate experiment do you enjoy supporting the most?
A ring-opening epoxide reaction. The students are not given the comprehensive instructions they are used to. We give them an Organic syntheses paper, in which someone has made 150g of the end product, and tell them to make a gram of it.
What is your most treasured analytical instrument in the teaching lab?
The 300 megahertz NMR. I have a love-hate relationship with it, but it's the bit of kit that I most like to spend my time with. We also have two smaller benchtop NMRs.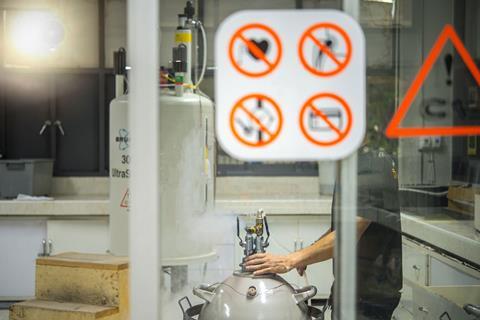 Are you involved in any school outreach activities?
Yes. A-level classes from local schools come and spend a day with us to get a feel for what it's like to study chemistry at university. They do some synthesis, use analytical instruments and get a tour of the department. We have also recently started T-level placements. We currently have six T-level students from a local college who will do a minimum of 35 days' work experience with us across two years.
What are the WorldSkills competitions and who can take part?
These are competitions for apprentices and students taking other types of technical education courses. The skills being assessed include laboratory, hairdressing, landscape gardening, renewable technology, concrete construction – so really anything you use your hands to do. I train some of the national winners in the chemistry laboratory category before the international competitions. Then, at the competition itself, I act as a judge. It's insane how big the international competition is. At the last in-person event, the opening ceremony filled an Olympic-sized stadium.
Find out more about vocational routes
Looking for more information on vocational routes into science to help provide career guidance for your learners? Check out the following articles:
You are currently working towards a master's degree. Can you tell me more about that?
It's a master's in inclusive education. I started in lockdown in 2021 and I am currently writing up my dissertation. Through this degree, I have been exploring my own experiences as a working-class, neurodivergent young person in the English education system, as well as looking at the wider injustices in the current education system.
Did you have any particularly inspiring teachers and what made them stand out?
At high school, I had an amazing science teacher who made lessons fun and tried to capture our imagination. Then at A-level, I had an absolutely brilliant chemistry teacher who really fostered that interest and ensured the lessons were always fun.
What keeps you awake at night?
Things not being perfectly ready for the students in the lab. I put too much into that. Which is the opposite of what I tell my team to do!