Kristy Turner talks about her experience of the Science on Stage conference in London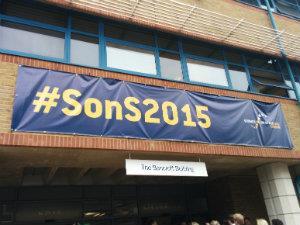 Last week I was fortunate enough to be part of the UK delegation for Science on Stage 2015 in London – a large science education conference with teachers from across Europe and Canada.
Where it differed from most teaching conferences was is in its focus on teachers presenting their ideas. There was a smattering of professional bodies, CLEAPSS, and the odd commercial company (often a small scale enterprise), but the overwhelming number of stands in the fair were from teachers showcasing their techniques, projects and culture.
The programme was mixed – on stage presentations, workshops, seminars and the fair.
Diverse display
On stage, our host was Matt Parker, a former maths teacher who now combines a fellowship in maths communication at QMUL with stand-up comedy, and his easy wit helped to smooth things along. Opening the show were Stephen Ashworth and Maxine Rushton presenting 'The science of Santa', demonstrating how you can use science to illustrate any story. Another highlight was 'The light express' from University of Southampton, a fantastic laser show communicating physics really effectively.
Then there were teachers showcasing their own projects. 'Time travel as a guided chemistry tour' by András Róka from Hungary provided many heart stopping moments. He weaved flashes and bangs into a story about the creation of the universe and a time travelling chemist.
The seminars and workshops were incredibly varied and inevitably there were several in each time slot that it would have been nice to have attended. I focused on two that discussed education policy across Europe. The Royal Society consulted on its vision for STEM education with a series of flipchart exercises to promote discussion, and Aneta Mika and Wojciech Nawrocik from Poland presented a comparison of European science education systems. With a room full of teachers discussing education policy it wasn't surprising that it didn't feel like we had enough time to fully cover either of these topics. What I'll take away is that STEM teachers across Europe are feeling many of the same pressures, but in the UK we are quite fortunate in the support we have from our technicians and professional bodies.
Science shindig
The highlight of the whole festival was the fair, stand upon stand of passionate teachers showcasing their ideas. Walking through the rooms you could meet someone from Hungary with a device measuring oscillation with a smartphone they built in their garage, a biology teacher with cockroaches and stick insects brought down on the train, two German teachers with homemade fuel cells made from kit you could find in your school. How many of the teachers transported all their kit on planes from their home countries I cannot imagine.
The atmosphere was so energetic and positive. Rooms were decorated with flags and balloons representing the countries they contained and nearly everyone seemed to have brought edible treats from their home countries (some Greek delegates cracked open the ouzo at 10:30am).
The festival would have needed to be a week long to make the most of it and I certainly didn't manage to see it all. Happily, the organisers have made a virtual poster fair so we can all catch up on what we missed.
Were you at Science on Stage? It would be great to hear your thoughts and experiences of the event.
Kristy Turner is a chemistry teacher in Bolton and an honorary fellow at the University of Manchester, UK