Hi, I'm Raquel and I work at Ananas Anam, a startup company that combines research and innovation to enhance the well-being of the earth.
What is a head of research and sustainability?
My role is responsible for minimising the waste and optimising the production line for our leather-like material, Piñatex. I find ways to lower the environmental impact during the manufacturing process. For example, we use pigments instead of dyes, because the process requires less water.
I technically check new suppliers are environmentally friendly. I also supervise a team of three and help them to develop Piñatex for other markets and respond to requests from clients.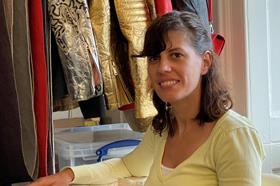 How does your work affect the world around us?
Pineapple leaves would normally be burnt or left to rot as a waste-product of pineapple-harvesting. However, we use the leaf fibres to create a fabric. By not burning the leaves, we are saving eight kilos of CO2 per per square metre and we are supporting rural pineapple farmers with an additional stream of income. We work with small farms and corporations in the Philippines. We help them to invest in the equipment that they need and give them instructions on how to process the leaves. We pay them to extract the fibres from the plants. They extract the fibres from the leaves and they can use the rest for fertiliser.
Minimum qualifications: A master's degree in chemistry, material science or textile engineering, with the addition of a sustainability-related course. It's important to have the sustainability knowledge from a technical point of view.
Salary: £20–£40k depending on experience and £40k upwards for management positions.
What is your typical day like?
Every day is different – about 50% of my time is meetings, 25% paperwork and the rest a bit of action.
Recently, we have been working on ways to extract yarn from the pineapple leaf fibres which will open up new markets and give our existing clients more flexibility on what they can make, eg a jumper.
At the moment, Piñatex is used mostly for shoes as it's similar to leather. Being in a startup means you work across all the departments and I am helping to set up a new lab and supervise the purchase of the chemistry-related part of the production.
My next big project is going to be the recycling of our materials.
What do you love about your job?
I like the variety; no day is the same. I also believe in what we are doing – the positive impact it has both environmentally and socially. When we are super busy or super stressed, it is important to know that you are working for something that is good. I'm able to apply the science I developed during my PhD to real products and see the results which is really rewarding.
I also like the work atmosphere at Ananas Anam because we all have the same purpose, focused on a positive impact. I am literally helping the environment and improving sustainability.
I am growing with the company – when I started, we had eight people in the UK. We have ten now and a team of 18 in the Philippines and three in the Spanish team. We're planning to hire more people next year so I am growing with the company.
What advice would you have for a young person wishing to enter your career area?
Choose a career that you like, something that keeps you motivated as you will be spending a lot of time on it. When you have an interest in something, it is easier to reach the target and not to be put off by failures. Keep trying – hard work always pays off.
Look for work experience and other activities linked to your interest. Always remember that no-one is born with the knowledge installed in their brain so do not be afraid to learn and ask. Do not rush – step by step things will come. Fix the target and check what steps you need to get there, no shortcuts.
What skills do you need for your job?
Apart from the technical skills, you need to have team-working and problem-solving skills. Being positive, taking the initiative and having the capacity to listen and learn and adapt to working in different environments is also esssential.
How did you get your job? How did your qualifications help?
When I was working as a researcher at Imperial College, the department secretary forwarded on a job-opportunity from Ananas Anam. They wanted someone who could speak Spanish and knew about biomass (ie materials made by plants and animals that can be converted into something else), which was what my PhD and research was about so I applied.
My chemistry degree and PhD in renewable materials taught me how to manage projects, organise my own workflow and also manage students' projects. I also learnt how to collaborate with others, solve problems and find trustworthy information.
Want to find out more?
Raquel Prado MRSC, head of research and sustainability at Ananas Anam.
Published September 2021