I'm John (He/Him/His) and I work at the University of Cape Town as a medicinal chemist.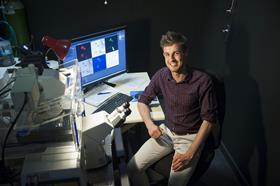 How were you inspired to work in chemistry? What keeps you motivated?
Chemists, foremost, are interested in molecules and manipulating matter. As a child, I enjoyed playing with Lego building blocks and concocting mixtures in the kitchen. Working as a chemist is a natural progression of those pastimes.
I am motivated by the idea that I am making a very small (albeit valuable) contribution to the great enterprise of science that will eventually (potentially) lead to a tangible difference in the lives of those suffering from preventable and curable infectious diseases.
What do you love about your job?
I love the variety of my job – from the interactions with my colleagues whose expertise may span a variety of scientific disciplines, to the time spent at my desk learning new things, to the hours devoted to making new molecules in the laboratory.
I love being part of a team and an organisation that attempts to make a difference to the world by discovering new medicines for some of the world's most vulnerable people.
What is your typical day like?
Every day is different – and somewhat unpredictable! Some time may be spent in meetings, discussing recent results and designing our next target molecules, or at my desk, analysing recent data or planning the best synthetic routes. Most of my time is spent in the lab, setting up reactions and manipulating flasks and equipment to make and purify new molecules. Needless to say, experiments in the lab seldom go according to plan – keeping everyone on their toes!
Much of my work is what we call 'wet chemistry', but the 'dry' side – at the computer, running data analysis, discussing and planning future molecules – is increasing too.
Minimum qualifications needed for role: Most medicinal chemists hold a PhD in chemistry (usually in the field of synthetic organic chemistry, or with a substantial organic chemistry component) but there are also opportunities or junior positions for those with a master's degree in chemistry.
Salary: As a postdoctoral fellow in South Africa, you could expect to earn about £15 000 per year (ZAR 300 000). In the UK, salaries can range between £28,000 - £39,000 (dependent on location, university and experience).
What tips or advice would you have for someone looking to get into a similar role as a medicinal chemist, or considering a career in chemistry?
An idea that I have found helpful is the Japanese concept of "ikigai" which roughly translates as "a reason for jumping out of bed each morning". What do you love? What are you good at? What does the world need? What can you be paid for? For me, chemistry lies at the intersection of those four questions.
What skills do you need for your job?
Teamwork, problem solving, data handling, good communication, and technical skills are all necessary. The diversity of skills required as a medicinal chemist, from laboratory skills to those of a less tangible nature such as working together as a team and effective communication, is one of the aspects that makes the job interesting and challenging.
How did your qualifications help you get your job?
After my degree I completed several years of postgraduate study in chemistry, eventually culminating in a doctorate in chemistry, and now I'm doing a postdoctoral fellowship in medicinal chemistry at the University of Cape Town. It's interdisciplinary, taking in pharmacology, biology and even public health: all the strands needed to make a difference to people's lives through chemistry.
To be a postdoctoral medicinal chemist you need to hold a doctorate in chemistry, preferably specialising in medicinal chemistry or synthetic organic chemistry. Although I hadn't formally engaged in medicinal chemistry prior to my current role, my doctoral thesis had a strong organic chemistry component and was focused on malaria chemical biology, so this provided a good foundation to join a malaria drug discovery project.
Want to know more?
Keep an eye on Derek Lowe's blog on drug discovery In The Pipeline, published weekly in the journal Science Translational Medicine. He writes on a wide range of topics from basic research to clinical trials, exemplifying the diversity of issues that confront the medicinal chemist.
Chemistry World is the Royal Society of Chemistry's monthly magazine for members and is an excellent way to be part of a larger community of inquisitive scientists who are driven to make the world a better place through chemistry. Nature and New Scientist are also great ways of finding out more about the latest news in science.
Interested in a PhD in the UK? FindAPhD.com is a great place to start researching and applying for a PhD.
First published 2021